Victoria coronavirus data: Find out how active case numbers have changed in your postcode in the past week
Victorians can see how many active coronavirus cases there are in their postcodes using The Age's interactive database.
The interactive also shows Victorians whether this number has increased in the past week.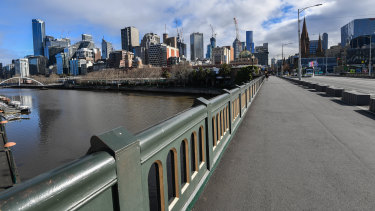 A quiet Princes Bridge in Melbourne as stage four lockdown restrictions take effect.Credit:Joe Armao
Simply type in your postcode or suburb into the interactive table below to find out the current number of active cases in your area.
This is the second time the Department of Health and Human Services has released data breaking down coronavirus case numbers by postcode in Victoria, so it is possible for you to also see the net change in your area in the past six days.
There are 7449 active coronavirus cases in Victoria, up from 5743 when this postcode-level data was posted for the first time last Friday.
The postcode with the most active cases is 3029 (Hoppers Crossing, Tarneit, Truganina), where there are 459 known COVID-19 infections. This postcode also had the highest total last week, but in the past six days the active case count there has increased by 113 (or 33 per cent).
I have added the active case rate per 1000 to the database as well, since this helps adjust for population size. Ardeer, in Melbourne's inner north-west, has the highest rate of coronavirus cases. This area is home to the Estia Aged Care facility, where an outbreak has been linked with 139 COVID-19 cases.
A guide to help you interpret this postcode level data can be found here: How to read Victoria's latest coronavirus data
Using the map below, you can find the number of active coronavirus cases in your postcode. You may need to adjust the zoom or move the map so that it takes in the area you are interested in.
The data is broken down by area of residence of a person, not where they were infected. Also, when you're looking at this map, keep in mind that known outbreaks may be driving high infection rates in some areas.
Craig Butt joined The Age in 2011 and specialises in data-driven journalism.
Mark Stehle is the design director for multimedia at The Age, The Sydney Morning Herald, Brisbane Times and WAtoday.
Loading