Government payments to St John Ambulance for hours they must ramp ambulances should not be hidden from taxpayers as they currently are, Health Minister Amber-Jade Sanderson says.
"I think it should be [public]," she told a Business News breakfast on Thursday morning.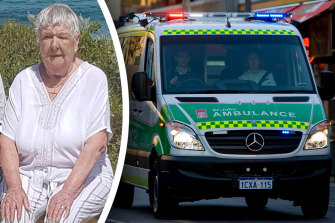 Georgina Wild, 80, died of a suspected heart attack while waiting hours for an ambulance in Perth.
"I think people should know what's going in and how it is going to be invested, so I don't have an issue with it."
Under St John's current contract with the government, they are paid for every minute that a hospital is ramped, but the rate at which they are paid is kept secret under the barrier of "commercial in confidence".
An ambulance is considered ramped if it cannot transfer a patient to hospital care within 30 minutes of arriving.
The money is expected to be spent to improve St John's capacity to deal with patients and get ambulances back on the road, despite most ramping occurring due to blockages in hospitals.
A parliamentary committee recently found the payment could be a potential financial incentive that results in increased ramping and recommended the Department of Health review it.
Sanderson said more transparency would be considered as part of ongoing negotiations for renewing the contract.
"It would depend on the legal advice and how ... those negotiations play out," she said.
An ambulance arrived five minutes later to find him in the middle of a heart attack. He died later on.
St John and WA Health are investigating both incidents.
What followed was a public tussle between St John and the WA Government over what caused the poor response times.
Staff furloughing due to COVID and ramping have been blamed as the main causes for why ambulances have been taken off the road.
Ramping figures for May reveal the practice remains at a record high at 5255 hours across the state.
Loading
This was up slightly from ramping hours in April at 5130 and far higher than late 2016 when the Labor party declared a ramping crisis while in opposition, when they passed 2000 hours a month for the first time ever.
The parliamentary inquiry recommended St John be given five years to resolve issues and if it fails to, then the government should consider bringing it in-house.
The Morning Edition newsletter is our guide to the day's most important and interesting stories, analysis and insights. Sign up here.