IG MARKETS SPONSORED POST
Wall Street closed higher overnight after an up-and-down session as investors anticipate a new stimulus deal being reached, but the Australian sharemarket is set to start the day in negative territory, with futures shortly before 9am AEST pointing to a fall of 13 points at the open.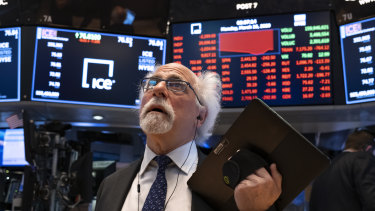 Wall Street endured an up-and-down session overnight. Credit:AP
US fiscal stimulus, and political gridlock in Washington, remained the markets' primary concern overnight. As the virus crisis rages on, and the globe's economic recovery shows signs of stalling, market participants a clinging onto hope that policymakers in the US can nut out a deal, and keep fuel the US economy's rebound.
A lack of progress in stimulus talks overnight appeared to weigh on the US Dollar, and sparked another drop in US yields. The drop in the Dollar and yields proved dynamite for gold prices once again. The yellow metal surged 2 per cent in the US session, to trade well above $US2000 per ounce, and record a fresh-all time high.
US equities were able to eke out gains, despite a lack of clarity on fiscal stimulus, and what happened to be a soft lead received from European markets. Market sentiment remains generally positive, with the US VIX holding its multi-month lows around 24, despite calls for a seasonal pick-up in volatility this month.
US earnings season rolls closer to its end, while local investors will keep one eye on the ASX's upcoming reporting period. New Zealand will be publishing its employment data this morning, before attention turns tonight to US ISM Non-manufacturing PMI, and the ADP Non-Farm employment update, which prefaces the highly anticipated official Non-Farm Payrolls release of Friday.