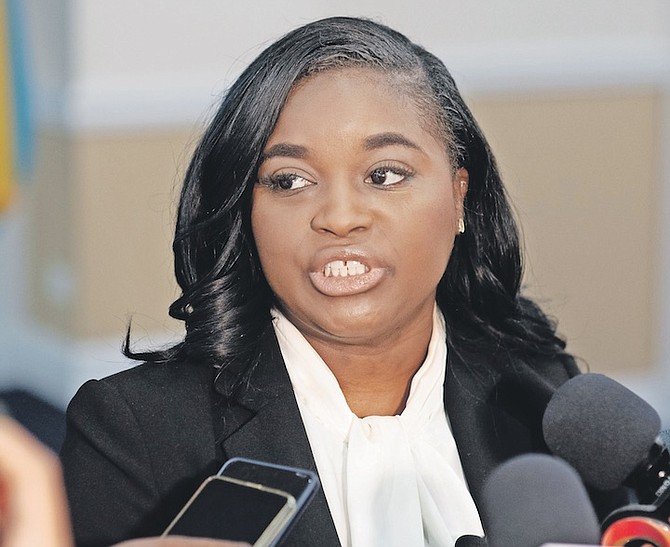 TRANSPORT and Housing Minister JoBeth Coleby-Davis.
By LYNAIRE MUNNINGS
lmunnings@tribunemedia.net
POLICE Commissioner Clayton Fernander said there is "insufficient evidence" to proceed with investigations into claims made against Housing and Transport Minister JoBeth Coleby-Davis.
Commissioner Fernander was referring to claims that Mrs Coleby-Davis allegedly assaulted a police officer with her vehicle during an exchange at the Carnival Road March last May.
The Elizabeth MP has repeatedly denied any wrongdoing and Prime Minister Phillip "Brave" Davis has since defended her, saying he was satisfied with her account of what happened that day.
During a press conference at Police Headquarters on Friday, the police chief was asked for an update concerning the status of investigations into the incident.
"I wish to say that the investigators in our legal team have viewed the file with respect to the Hon JoBeth Coleby-Davis and the result is that there's insufficient evidence at this time to proceed with that matter, so that matter is closed," Commissioner Fernander told reporters.
He declined to comment further. However, Commissioner Fernander pointed out that there were "a lot of talks" on social media, adding that accurate facts and evidence were used to conclude the matter.
Last year, Commissioner Fernander denied claims that investigations are being "drawn out" because of Mrs Coleby-Davis's position as a Cabinet minister.
Earlier this month, the police chief also confirmed reports that officers had questioned former Free National Movement Cabinet minister Lanisha Rolle and her husband as a part of their investigations into the Ministry of Youth, Sports and Culture.
On Friday, Commissioner Fernander said investigations into the matter of the former Cabinet minister are still "very much active".
Mrs Rolle resigned from Cabinet in February 2021 for "personal reasons," and has repeatedly denied any wrongdoing, saying her track record spoke for itself.