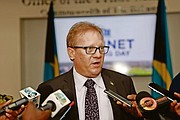 By Fay Simmons
Tribune Business Reporter
jsimmons@tribunemedia.net
The Attorney General yesterday branded The Bahamas' corporate insolvency regime as "a joke" and pledged to reform outdated laws and regulations that continue to undermine the financial services industry's competitiveness.
Ryan Pinder KC renewed his promise to make The Bahamas "a near shore Delaware" through overhauling the bankruptcy and insolvency regulatory framework, which has not been upgraded for decades. He told the Nassau Conference that clients have been leaving The Bahamas due to the outdated regime.
He said: "Our insolvency regime is a joke. It instils no confidence in sophisticated structuring of companies on a commercial basis in The Bahamas. In fact, it was created in the early 1900s. Let's be real. We need to lead from the front and be innovative. Companies are moving. We know that.
"We are analysing the companies regime, the insolvency and bankruptcy regime, and related legislation, and to prepare recommendations for the preparation of new, all-encompassing companies legislation and updated insolvency and bankruptcy legislation. We look to be akin to a near shore Delaware, a jurisdiction known for its commercial expertise and innovation.
"With the international tax and compliance developments, we have seen a move of clients to onshoring or near shoring of company structures. We need to position our jurisdiction to be at the front on this industry movement. Only a sophisticated, international best practices companies' regime will position us there."
The Attorney General also revealed that the new online companies portal at the Registrar General's Department (RBD) will be launched during the first week in December with more than 400,000 files already migrated to the new platform.
He added: "We have begun the migration exercise and it is going well, having already migrated more than 400,000 files. We have a full-time data verification team that manually verifies data when needed, and have retained a consultant to project manage the process, someone who is known to you.
"I am pleased to be able to announce that, barring any unforeseen circumstances, we are on track for a full launch of the online portal for current companies the first week in December." Mr Pinder said Registrar General employees are currently receiving training on the new system, while a group of financial and corporate service providers (FCSPs) have attended workshops on the new platform to garner feedback. Full industry training will begin in November.
"This platform is designed to be similar to the platform used in the Cayman Islands. In fact, we are using the same developers. The developer has released the system, with mock data, for the Registrar General's Department users to use in a test environment and become familiar with the functionality prior to supporting their FCSP, mini-agent and business owner user communities. This week, the entire Registrar General's company team is getting training on the system," he added.
"We have hosted workshops for a select group of financial and corporate services providers so that they can experience the new system and start thinking about how this new functionality can be best utilised in their offices. We have solicited their feedback on the new system.
"We anticipate that this small group of financial and corporate services providers will, in October, pilot the live system, meaning that they will have to interact with the Registrar General's Department staff and perform new incorporations and new company requests utilising the system. This is intended to give the Registrar General's staff real life experience and training before the launch of the online system. Full training for all of industry will commence in November."
Mr Pinder added that The Bahamas' new economic substance reporting platform was launched earlier this month and, to address enforcement capability concerns voiced by the Organisation for Economic Co-Operation and Development's (OECD) forum on harmful tax practices, regulators have conducted more than 34 on-site inspections of financial services providers while 12,000 desk-based reviews have been completed thus far.
"Our government has retained the firm BDO to develop the reporting platform. As many of you would know, the reporting portal launched earlier this month and is operational for registered agents to report," the Attorney General said.
"We have also addressed the comments from the forum on harmful tax practices on enforcement matters. The Competent Authority has ensured that our compliance activities are comprehensive. Officers are conducting desk-based reviews of included entities with over 12,000 desk-based reviews completed to date.
"The Bahamas has initiated an onsite-inspection exercise to verify the information sworn to or affirmed in the Competent Authority's Substantial Economic Presence Portal. Thirty-four inspections have been completed, and an additional 30 have been identified for further review and on-sites which are currently ongoing."
Mr Pinder said The Bahamas' financial sector has been successful thus far due to its ability to adapt and innovate, but he warned that the pace of creativity appeared to have slowed down in recent years.
He said: "We have built this industry, sustaining our viability over the last few decades as an international financial centre, by our ability to be nimble and adapt to changing circumstances by being innovative.
"A partnership between industry and government to continually innovate and develop, often doing so ahead of our competitors, has been our secret of success. I would put it to you that over the last few years we have not kept pace with this mission as it relates to new product development, not abided by our tried-and-true strategy, and slow to adequately innovate to keep ahead of the changing business and regulatory environment."