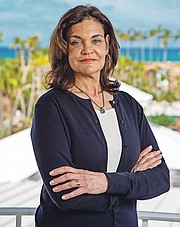 BY LEANDRA ROLLE
Tribune Staff Reporter
lrolle@tribunemedia.net
ATLANTIS executives anticipate that 2023 will be the best year in the resort's history, with occupancy rates and visitor spending up when compared to previous years.
"Atlantis, I'm pleased to say that 2022 was a record year for the Bahamas and 2023 will probably be the best year in Atlantis' history so far since we've opened as we celebrate our 25th anniversary and we do the celebration in November," said Atlantis President and Managing Director Audrey Oswell.
This comes amid international reports that Brookfield Asset Management is again searching for a company to purchase the resort.
When asked about September bookings, Ms Oswell said the numbers were "a little light" as September is usually considered a slow period for tourism.
"They're stronger than in previous years, but our fourth quarter is going to be the strongest fourth quarter we've ever had in the property," she added.
According to the Ministry of Tourism, there were more than five million arrivals in the first seven months of this year.
The ministry is also predicting a visitor rate of more than eight million by the end of the year.
"Of the 5,893,118 total visitors who came to the islands of The Bahamas in the first seven months of the year, 1,133,494 arrived by air and 4,759,624 by sea. July 2023 has been the busiest July since 2019, with March being the "busiest arrivals month in our history," the Ministry of Tourism said.
"July year-to-date arrivals are pacing 59 percent ahead of 2022 and 30 percent ahead of 2019, the busiest year on record."
Tourism Minister Chester Cooper credited the hard work of his team for the country's improving tourism performance.
He said: "The stronger than expected results speak to vibrancy of The Bahamas' brand, methodical business strategies and the hard work of tourism industry professionals and stakeholders. We are seeing record arrivals, because we have all worked together to resuscitate our tourism industry, coming out of the pandemic, and, because we continue to improve our tourism product."