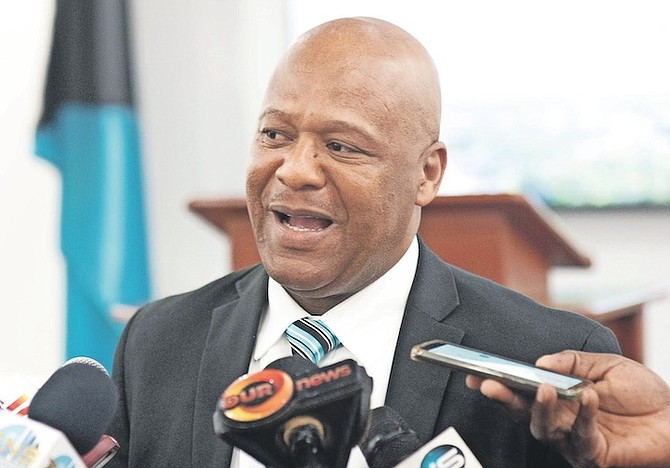 LABOUR and Immigration Minister Keith Bell.
By JADE RUSSELL
Tribune Staff Reporter
jrussell@tribunemedia.net
AFTER Chief Justice Sir Ian Winder criticised the lengthy delays people encounter in response to their citizenship applications, Immigration Minister Keith Bell defended the process yesterday, stressing the need for due diligence.
Sir Ian discussed the matter during a lecture at the Eugene Dupuch Law School on Thursday of last week.
"There is absolutely no lawful justification why these applications ought to take years and in some cases decades to be processed," he said. "Such interactions leave a bitter taste and often hinder these Bahamians from fully embracing their Bahamian identity when their applications are eventually approved."
Mr Bell, however, defended the system.
"The reality is, The Bahamas is a sovereign state," he told reporters after a press conference about an upcoming job fair. "Everyone has a right to his or her opinion, albeit the Chief Justice, he is the dispenser of justice and the determiner of our laws. The reality is though, for our country where we have a very significant influx of persons into our country and not just from Haiti, not just from Cuba, not just from Jamaica, but all over the world, persons applying for citizenship or persons who are born in The Bahamas to non-Bahamian parents, we have to ensure that immigration does its due diligence."
"In many instances, the delay is not necessarily the fault of immigration alone. We have to ensure that documents which are submitted are authenticated, we have to ensure that we get our birth certificates, we know that there is significant fraud, there are persons taking on the identification of other persons we've had the cases. As a matter of fact, I have three cases on my desk right now."
"This is our birthright. We want to ensure that we would have done everything we possibly can to ensure that we are given the right persons citizenship to our country."
Mr Bell said the government should not give itself a timeline to respond to citizenship applications.
"We're talking about citizenship," he said. "We're not talking about something else. It is nothing to be taken lightly."