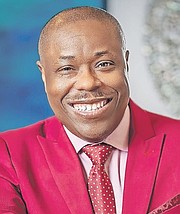 • Exchange 'definitely exploring' assets' listing and trading
• BISX chief urges that product 'benefits home jurisdiction'
• Says 'definite need to have transparency, price discovery'
By NEIL HARTNELL
Tribune Business Editor
nhartnell@tribunemedia.net
The Bahamas International Securities Exchange (BISX) is "definitely exploring" the listing and trading of the country's blue carbon credits on its platform, its top executive asserting: "A home on BISX makes sense."
Keith Davies, the stock exchange's chief executive, told Tribune Business in a recent interview that "we are looking at avenues to engage and involve BISX in what could be a variety of products" following discussions with persons working on the Government's strategy to monetise the value of this nation's ocean-based carbon 'sinks'.
Arguing that there is a "definite need to have transparency and price discovery" with carbon credit trading, which only a regulated exchange can provide, he conceded that the extent and nature of BISX's involvement will depend on how The Bahamas' products are packaged and structured.
Mr Davies, though, added that if The Bahamas wanted to use its prospective blue carbon credits "to benefit the home jurisdiction", and its citizens and investors, then their listing and trading via BISX - either as a primary or secondary market, or both - made sense.
"I know there's been some work in that area," the BISX chief replied, when asked if the exchange was looking to play a role in the Government's blue carbon credit plans. "I have talked to the persons involved in that on the private side. I do know we are looking at avenues to engage and involve BISX in what could be quite a number of products coming out of that.
"The answer is, yes, we have been exploring it, and hopefully we can play a part. Definitely. We are looking at that. Depending on how we package carbon credits, and how we deliver them to the market, there is a definite need to have transparency and price discovery and, equally, if we want to benefit the home jurisdiction, The Bahamas and its citizenry and investors, a home on BISX makes sense."
Mr Davies acknowledged that BISX's role will ultimately "all depend on the products that result from the work being done". He added: "If it takes the form of a fund, that's different. If it's a closed-end fund with securities that's different. If it's a company issuing securities based on the income, that's different. You securitise the revenue flow and list that. If there's some sort of debt, that's another product. It all depends on the structure."
The BISX chief executive also conceded that the potential financial benefits, both to BISX and The Bahamas at large, from the creation, sale, trading and listing of blue carbon credits remains "totally uncertain". He added: "A lot of work is going into organising and preparing the country for what could come.
"That's a longer process. All these things are being discussed and looked at. You know what I always say. You get it right. You don't do fast." In readiness for the creation, and launch, of The Bahamas' blue carbon credits, the Government last year steered the Carbon Trading Bill 2022 through Parliament and into law to provide the legal and regulatory framework for their trading.
BISX's role, which will come in at the end of this process, remains uncertain given that the Government has looked to much larger international platforms to facilitate the listing and trading. It initially sounded out the FTX crypto currency exchange prior to its November 2022 implosion and, subsequently, it was revealed that The Bahamas has ambitions to become the first country to list a "natural asset" on the New York Stock Exchange (NYSE) via its blue carbon credits.
Anthony Ferguson, president of CFAL (the former Colina Financial Advisors), and a director/adviser to Carbon Management Ltd, the entity that will be responsible for developing, managing and trading the country's blue carbon credits, revealed in June that "conservative" forecasts suggest The Bahamas could generate between $300m-$400m from monetising its seagrass and mangrove 'carbon sinks' via these credits.
"The Bahamas hopes to be the first country to list a natural asset company on the NYSE. We are well on our way to doing some of the work on that. Hopefully next year we can do that. Again, in the carbon space we, as a country, for the first time, I would say, are leading the world with respect to seagrass blue carbon. We are pretty close to the verification process," Mr Ferguson told a panel discussion hosted by the Chartered Financial Analyst (CFA) Society of The Bahamas.
Mr Ferguson, together with Antoine Bastian, Genesis Fund Services' chief, were previously named by Prime Minister Philip Davis KC as two principals who will help lead efforts to "financially engineer and structure the carbon credits, and to create a network to effectively market, sell and monetise carbon credits" on The Bahamas' behalf.
Carbon Management Ltd, a Bahamas-domiciled entity, has been charged with raising the $50m-$60m required to map all The Bahamas' blue carbon assets such as mangroves and seabeds. The size and value of The Bahamas' blue carbon sinks, which remove carbon dioxide from the world's atmosphere, have to be verified by independent bodies before they can be monetised and converted into carbon credits.
Tribune Business can reveal that, besides Mr Ferguson and Mr Bastian, the directors/advisers to Carbon Management Ltd also include Michael Paton, the Lennox Paton attorney and partner; Jeffrey Kerr, president and chief executive of Green Leaf Financial Services; and Dr Livingstone Marshall, senior vice-president of environmental and community affairs at Abaco's Baker's Bay development.
Dr Carlton Watson, from the University of The Bahamas, and Dr Alyson Myers, vice-president of development and research at Sandy Cay Development, are other members of the Bahamian scientific and environmental community named as directors/advisers to Carbon Management. The final three members - Dr Austin Gallagher, Dr Carlos Duarte and Cristina Mittermeier - are all affiliated with Beneath the Waves.
The latter is the entity that first informed the Davis administration that The Bahamas possessed a significant carbon 'sink' in the form of what it described as the world's largest seagrass bed. Beneath the Waves has since been involved in mapping/verifying the size of this asset, and has made no secret on its website of its ambitions to become involved in the development of blue carbon credits.
"The Bahamas has about 97,000 square kilometres of sequence that we need to map," Mr Ferguson told the CFA Society panel discussion of the country's seagrass beds. "We have broken it down into 5,000 square kilometres. For any number of reasons we have mapped 15,0000 square kilometres so far.
"We're planning another mapping of 10,000 [square kilometres] in September, which would bring us up to about 25,000 square kilometres we would have mapped. Each square kilometre is, based on our initial finding, about 500,000 carbon credits.....
"We think that once we are fully operational that we will produce anywhere from 14m to 18m tonnes of carbon a year. That's using today's HIS Market price of around $50, so on the low end conservatively we can see anywhere from $300m to $400m of new revenues. On the high end, we could probably see over $2bn."
However, several financial services sources have privately questioned the Government's plans to Tribune Business and whether it will generate the revenue numbers being touted. Several have suggested that, in order to be able to create and sell carbon credits, a country has to first reduce its own emissions and pollution as an 'offset' to what will be created by the purchaser. The Bahamas, they added, has yet to do this.
The sources suggested that while it was possible to monetise the country's carbon sinks, via low-cost concessionary 'blue economy' loans and debt financing, simply issuing credits against The Bahamas' seagrass and mangrove beds is unlikely to work.
However, Mr Ferguson told the CFA Society meeting that The Bahamas will be selling "carbon certificates" rather than carbon credits. These certificates will allow the purchaser to offset their carbon dioxide or greenhouse gas emissions by investing in environmental projects and assets - such as this nation's seagrass and mangrove beds.