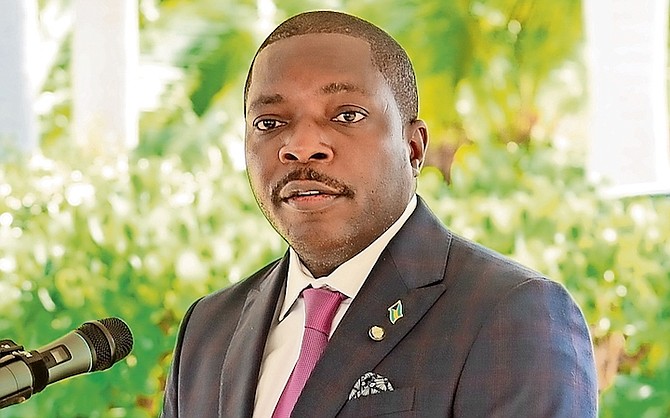 State Minister for Legal Affairs Jomo Campbell.
By EARYEL BOWLEG
Tribune Staff Reporter
ebowleg@tribunemedia.net
LEGAL Affairs State Minister Jomo Campbell said many banks are offering "shamefully inadequate" services in the country, especially in the Family Islands.
His comments in the House of Assembly make him the latest elected official to criticize banking services. In April, Fox Hill MP Fred Mitchell said legislative intervention is needed to address concerns.
"On one island, on government payday, Bahamians go to the ATM very early in the morning and must toe a line because they are afraid that the ATM will not be operational later in the day," Mr Campbell said yesterday.
"On Long Island, I have heard of residents advising one another of the functionality or lack thereof of ATM service."
"I have heard stories of Bahamians booking airline tickets just to come to Nassau to withdraw funds of their bank account because their local ATM was done for days. I raise the issue of the consistent delivery of financial services because for far too long, Bahamians in some of our Family Islands have been suffering, and some commercial banks have not been sufficiently held to account for their lack of sufficient action and concern."
Mr Campbell urged banks, particularly foreign-owned commercial banks, to treat residents better, especially those in communities without a physical bank.
"I also call on them to lower the costs associated with merchant transactions on islands where there is no bank as an incentive to encourage greater use of electronic point of sale exchanges and to make it easier for businesses to conduct transactions and make a little profit," he said.
East Grand Bahama MP Kwasi Thompson agreed with Mr Campbell, but said as a member of the governing party, he should help address the problems.
"I know that when I was the Minister of State for Finance, this was something that we were keen on addressing," he said. "We had numbers of talks and meetings with banks with respect to this same process and we were in the process of putting together a complete plan which also involved the sand dollar from the Central Bank that would assist in resolving this issue."
"But what I didn't do, which the members seem to be doing is, they, in my view, they are speaking as though they are in opposition as opposed to putting in place those policy measures that need to happen in order to make the necessary change. I believe that the member for Centreville and also the member for Fox Hill ought to convince his Cabinet colleagues with a plan, a strategy on how to address the situation and as opposed to vocalising it."