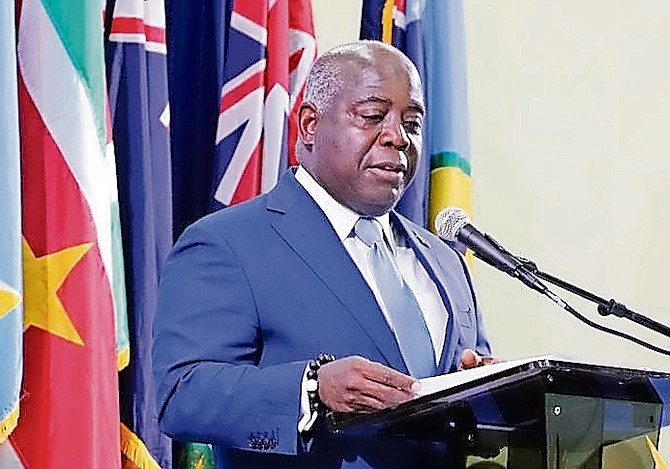 Prime Minister Philip 'Brave' Davis, during a speech at the Second Caribbean Small Island Developing States High-Level Dialogue on Climate Change, called for Caribbean leaders to unite and secure tangible gains from developed nations in the fight against climate change. Photo: Samantha Black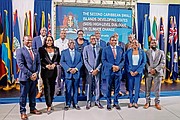 By LYNAIRE MUNNINGS
Tribune Staff Reporter
lmunnings@tribunemedia.net
PRIME Minister Philip "Brave" Davis renewed calls for Caribbean leaders to unite and secure tangible gains from developed nations in the fight against climate change.
"The time has come to double down on our efforts to tell these developed nations to write the cheque as they have kicked the can down the road for far too long," Mr Davis said during a speech at the Second Caribbean Small Island Developing States High-Level Dialogue on Climate Change.
Mr Davis and Environment and Natural Resources Minister Vaughn Miller travelled to Grenada to attend the conference, which is expected to end today. The meeting was expected to focus on six themes: loss and damage, transition to renewables, financial infrastructure, conservation, accelerating e-mobility, and data and transparency.
The event, launched in The Bahamas last year, will include priorities for the region ahead of COP28 in December.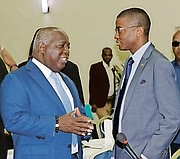 "We must call on our partners in the north to deliver on the commitment they made at COP 15 in Copenhagen to mobilise $100 billion per year by 2021," Mr Davis said.
"This is the very same goal which was reiterated at COP 21 in Paris and extended to 2025. To date, they have not reached this target."
Mr Davis said he remains committed to advocating for small island nations, pointing to rising temperatures and natural disasters like Hurricane Dorian to highlight the effects of the climate crisis.
"As COP 28 approaches, it is crucial that we, the developing countries on the frontlines of the climate crisis, hold the developed world to account," he said.
"Whether they honour their commitments could mean the difference between a mere disturbance and another Dorian, that devastating category five superstorm the likes of which my country had never seen and is still recovering from."
Mr Miller is expected to lead the Bahamian delegation in discussions at the conference today.