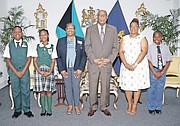 Kiwanis K-Kids
Governor General Sir Cornelius A. Smith received the District Administrator for K-Kids Bahamas Kiwanis along with students in the programme who participated and won in their 'Celebrating 50 Years of Independence. One Nation, Our Legacy, Our Future' essay competition in a courtesy call at the Office of the Governor General on Wednesday.
Rotary Club of South-East Nassau
Local celebrity boxing champion Ray Minus Jr. has received many headlining accolades for his record number of boxing bout wins here in The Bahamas and in several other Commonwealth countries, including the UK. And not just in the ring but also in the lives of many aimless youths scooped off Nassau's inner city troubled streets and enrolled in his Champion Boxing Club formed in 1995. It was his great love to train, coach and teach the youngsters sporting skills and life disciplines.
His former wife, Michelle Munnings Minus, who worked with him throughout his career, spoke to South-East Rotarians recently about the heart-breaking courage of her former husband since the diognosis of ALS or Lou Gehrig's Disease. She spoke of his daily therapy sessions and 24/7 home care overseen primarily by their daughter Rayshell. ZNS recently broadcast their interview with Rayshell and her father; it will be screened before the big fight today.
"The average life span for those afflicted is between two to five years, although some do live longer," she explained. "There is little awareness here and no support groups like they have for Parkinsons or Cancer, so we'd like to start one. This is a progressive disease without a cure that attacks motor neurons in the brain and spinal cord resulting in the wasting away of muscle and eventual paralysis."

She noted that he is a man well lived as he not only received fame but shared his knowledge and gave back to the community. "How tragic and unkind that he should now be in the fight of his life, a last fight with a known result - paralyses of Lou Gehrig's Disease (ALS.)"
She told Rotarians that in an effort to bring more awareness to the disease, and to pay tribute to her former husband and his sporting successes, her company FirstClass Promotions will stage an exciting evening of Female Professional World Title Boxing at 8pm tonight at the Sir Kendall Gymnasium. It is in conjunction with the Ministry of Youth, Sports and Culture and sanctioned by the Bahamas Boxing Commission. The night will introduce female boxing to The Bahamas. Tickets are on www.bahamasetickets.com After bills are paid, funds raised from the event will go toward Ray's daily in home care and the all-important (but expensive) therapy and medications.
"Ray's upper body, his neck arms and hands are already paralysed but his legs are strong and he will make an appearance on the night of the fight and be interviewed," she said. "A parade of boxers, Jermain "CHOO CHOO" Mackey, Quincy Pratt, Marvin "Marvelous" Mackey, Jerry Butler, Edner Cherry and others will escort him for a red-carpet arrival on the big fight night of March 31. And we will be screening some of his past fights. As this is a WBA World Title Fight it is being professionally recorded for showing in the USA and likely throughout the Caribbean."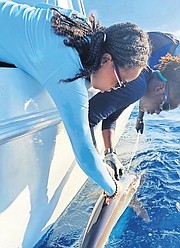 Saving The Blue
Saving The Blue has partnered with the Bahamas Agriculture and Marine Science Institute (BAMSI) for field research throughout The Bahamas.
For two BAMSI students, Bianca Miller and Skye Minnis, the collaboration has provided an opportunity for them to gain training, experience and exposure alongside seasoned marine scientists.
Nineteen-year-old Miller, a graduate of North Andros High School and a second year Marine Science student, said she first met with the STB team during a trip to Cargill Creek, Central Andros. She had been corresponding with Tristan Guttridge, vice president and director of STB, after a classmate told her about the organisation.
During that first trip, a shark and stingray tagging exercise, Miller recalls that the group went out on a boat "super early" in the morning. They started the day off by taking muscle samples from sting rays and spent the rest of the day looking for sharks. Unfortunately, they did not come across any sharks on that excursion. Miller admits to getting discouraged, but she realised she needed to be patient with the process if she was to have the encounter that she was excited to experience.
The following day the group planned to go to the Tongue of the Ocean and despite rough weather Miller said: "I still tagged two sharks, which was exciting, and I got to help pull in the buoys. I was kind of scared when tagging the shark for the first time, but eventually I realised it wasn't as bad as I thought…everybody has a fear of sharks."
Looking back on the experience Bianca said that she learned a lot. "I learned how to tag sharks; they caught a barracuda that they used for shark bait. I was watching how they set up on the boat. I also learned how to tie a bow knot for the boat, and I asked questions about what they do with the samples. I was curious, because I didn't know of any lab being in Andros… they said they sent the samples back to Florida."
She added: "I wish they had more organisations working in North Andros, especially for younger people, ones in high school, to give them more of an insight into their environment. Growing up, I never met anyone who wanted to pursue a career in environmental studies."
President of Saving the Blue Annie Guttridge said that she, along with her teammates are excited to be working with BAMSI and are looking forward to some exciting collaborations in 2023. Speaking of the students, Mrs. Guttridge said "everyone is just so wildly different from the next one. Many of them have never been out in deep water before. Tashon [Burrows, a third BAMSI student] never snorkeled before, but we were able to put him in the water swimming with sharks. Yes, he might have been afraid, but he did it."
For twenty-year-old Skye Minnis, a marine science major in her final year at BAMSI, her STB experience began with an Instagram post. During an internship with the International Field Studies the agency highlighted on Instagram a project Minnis was working on and Mr Guttridge commented, saying he was glad to see her getting dives in and that she should reach out to STB.
After reaching out to him and communicating back and forth for several months, Minnis was able to join them on a tagging expedition in November. "I went down to Cargill Creek with STB and I ended up staying for five days. During that first trip we saw six species of sharks and placed acoustic tags on the sharks."
In January, Minnis had another opportunity to be a part of STB's research team. Like the excursion in November, they focused on collecting muscle samples from Southern Stingrays to compare data analysis. "I was able to take some muscle samples from two of the rays that we caught. I learned a lot about the different sharks during this trip, how they behaved, how they act in certain environments and how they respond to certain things."
For Minnis, the STB team has been a valuable resource. For her final paper for BAMSI, Mr Guttridge is helping her carry out research which looks at the Impact of Sharks on Bahamian Fishermen. She had initially planned on focusing on Andros exclusively, but with the support of the STB team Minnis now looks to expand her thesis to cover more of the Bahamas. "This is the first study like this to be done in the Bahamas. A similar one was done in the Maldives," Minnis said.
"It's an amazing organisation with amazing people, really nurturing, both Annie and Tristan. Tristan, he was really nice, I asked questions and he was very keen on answering. He told me that for my age, I'm getting a lot of experience. When he was my age he didn't get the experience that I am getting. He didn't get it until he was much older. He was happy that young persons were getting that experience from BAMSI."
Going forward, Minnis is expected to be a part of the National Geographic Shark Week expedition. And she is currently working on her dive master and scuba instructor certification. She also plans on continuing to work at the Field Station and with STB.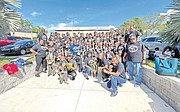 Smokey's Karate School
Nearly forty students of Smokey's Karate School participated in the recent Gasparilla Classic 2023 hosted by The International Sport Karate League.
The tournament which was held in Tampa Bay, Florida on March 25, was a huge success and the Bahamas was indeed represented well. All students received 1st, 2nd or 3rd place in their respective divisions.
Under the tutelage of Master Ronald "Smokey" Martin, the students trained hard to be the best in their sport and in the words of Master Smokey, "it truly paid off".
Master Smokey expressed that he gives thanks and praise to God for allowing his team along with a contingent of parents the opportunity to travel for such an amazing tournament, and keeping them safe throughout their journey. The students are now looking forward to yet another tournament to be held during the summer months and will continue to train even harder for another successful outcome.