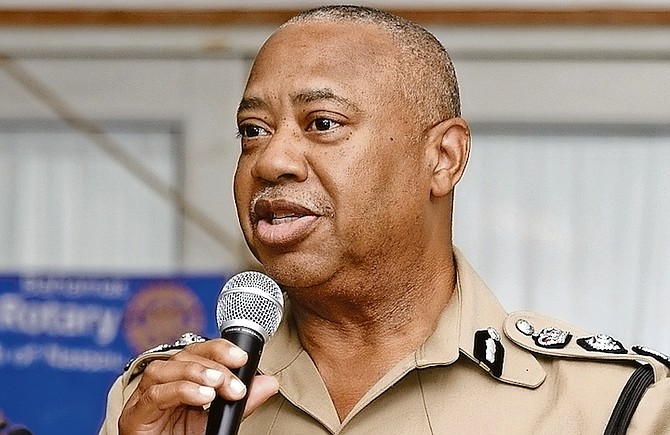 POLICE Commissioner Clayton Fernander.
By LEANDRA ROLLE
Tribune Staff Reporter
lrolle@tribunemedia.net
POLICE Commissioner Clayton Fernander revealed on Friday that crimes against the person increased by 23 percent last year when compared to the same period in 2021, including murders, armed robberies and sex crimes that also trended upwards.
Despite an uptick in these offences, he said serious crimes and crimes against the property decreased by two percent and nine percent respectively.
The police chief said data showed that murder increased by eight percent in 2022, which saw a total of 128 incidents recorded. During the same period in 2021, police recorded 119 murders.
New Providence recorded the most homicides followed by Grand Bahama.
"Out of that 128 murders, detectives with a combined team effort across the board with uniform officers, we were able to charge and solve 86 of those matters out of the 128 which represents a solvency rate of 69 percent," Commissioner Fernander added.
He said police investigations found that 35 suspects had killed someone while out on bail.
Another 34 alleged offenders, he added, were also murdered while on release.
Meanwhile, armed robberies during the 2022 period also jumped by 34 percent, with firearms continuing to be the weapon of choice for criminals.
With respect to sex crimes, there was a 14 percent overall increase, with 204 cases reported in 2022.
The year before saw 179 incidents.
Specifically, for rape, there were 55 incidents reported, representing a 15 percent increase over 2021.
Eight of the victims were tourists, while 39 percent of the victims knew the assailant.
Additionally, police reported that there were 139 unlawful sexual intercourse cases in 2022, an 11 percent increase over 2021 numbers.
Commissioner Fernander also reported increases in traffic fatalities, with 59 incidents reported last year.
This represented an 11 percent increase over 2021, he added, noting that speed played a factor in many of the incidents.
(See Monday's Tribune for more on this story).