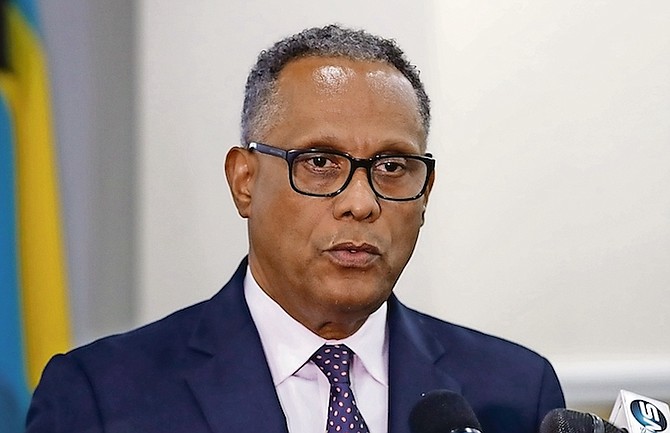 Health Minister Dr Michael Darville.
By LEANDRA ROLLE
Tribune Staff Reporter
lrolle@tribunemedia.net
CONSTRUCTION will soon begin on nine new "climate-friendly" clinics that will serve as hurricane shelters, Health and Wellness Minister Dr Michael Darville said.
It is not clear where the facilities will be built.
Dr Darville announced the plan while speaking on climate change's impact on healthcare during a meeting with Dr Barbosa da Silva, Jr, the new Pan American Health Organisation director.
The meeting was one of several Dr Darville attended after leading a delegation to Geneva, Switzerland, for the 76th World Health Assembly last week.

In speaking with Dr Barbosa, the health minister underscored the need for climate-resilient facilities for small island developing states.
He said: "I'm about to construct nine new clinics that are climate-friendly throughout the area and hopefully will act as hurricane shelters in preparation for gale force winds during the hurricane and the passage of the hurricane.
"And so, for us the delivery of primary healthcare is constantly interrupted by these devastating cyclones that are usually Cat 4 or Cat 5 with winds that are more than 200 miles per hour and compounded with surge.
"The last hurricane we had, we had twenty feet surge.
"This is the reason why we speak specifically about small island developing states and the impact of climate change. So, for The Bahamas, climate change is the number one issue that affects the delivery of healthcare services."
Dr Darville also spoke about his ministry's digitisation efforts, saying: "We are very close as it relates to our e-clinical records, our ability to integrate the islands and ground emergency medical transport systems and how we integrate it and tie it into air transport to move cases to the capital for tertiary care.
On recruitment, Dr Darville noted the country's close ties to Cuba.
"If I go to Cuba to recruit," he said, "I go to Cuba to recruit simply because they have a surplus of healthcare professionals that they are willing to send outside of their country and we bring those individuals in and we pay for their services.
"We are not asking for it free, we pay for those services, but it is a very difficult situation where you are seen as if you are doing something that is wrong, and this is a bare mechanism for survival."
The WHO assembly ends today.
The prevalence of non-communicable diseases, antimicrobial resistance and universal health coverage were expected to dominate this year's agenda.
Dr Phillip Swann, the registrar in the Chief Medical Officer's office, highlighted the need to improve mechanics for better data collection from health systems and on health outcomes in The Bahamas.
He told the assembly last week that a systemic review showed The Bahamas was "in jeopardy of not meeting" its targets.