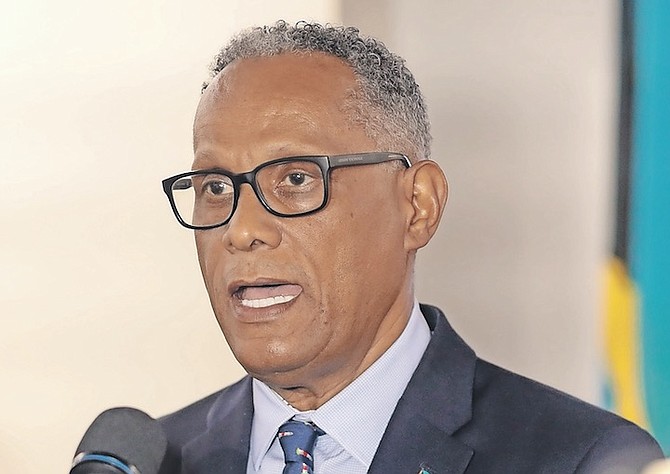 HEALTH and Wellness Minister Michael Darville.
By EARYEL BOWLEG
Tribune Staff Reporter
ebowleg@tribunemedia.net
WITH allegations of negligence at Princess Margaret Hospital, Health and Wellness Minister Dr Michael Darville said the hospital "definitely" has "elements of possible malpractice", adding it was up to officials to minimise such incidents.
Public outrage was ignited earlier this month after the death of Kenise Darville, who went live on Facebook days before her death. The distraught mother of three claimed that she experienced negligence and poor healthcare at PMH.
News of her death prompted other persons to share their alleged bad experiences at the hospital.
After a tour of PMH on Saturday, Dr Darville was questioned about the level of concern about the number of allegations and persons afraid to go to the institution.
He answered: "Well, you know, allegations for the delivery of healthcare services is something that is age old. Every facility throughout the world, there's elements of possible malpractice and the legal parameters associated with it. I cannot point to one hospital anywhere that I've been involved in where these allegations have not been brought forward.
"There's a system that's in place, and there's a legal system that is tied in with the PHA legal system and any person who feels as if there's an element of malpractice, they have a right to seek legal advice. But while that's happening, it is our responsibility to minimise those allegations by improving our customer service relations by putting advocates in place so that loved ones can constantly be in contact with their loved ones on the ward and any aspect as it relates to malpractice can be brought to the forefront.
"I can assure you, the PHA, the Ministry of Health and Wellness, we're an open book and we definitely have elements of possible malpractice. You can see it - it happens in the court system. But while that's happening it is our responsibility to improve the service and to ensure that we minimise that and to stay in communication with family members who have reports of possible mistreatment of their loved ones."
Mrs Darville's mourning family has demanded answers surrounding the circumstances of her death and has called for changes in the public healthcare system.
In the wake of the controversy, Dr Darville said that an investigation was underway.
"I was familiar with the case," he told The Tribune in a previous interview. "I've seen the posting on social media, and instructed the Princess Margaret Hospital and the Public Hospitals Authority to do an immediate investigation into the allegations. I'm certain that is already being done. And in short order, the PHA and Princess Margaret Hospital will be issuing a statement once all the factual information has been obtained."