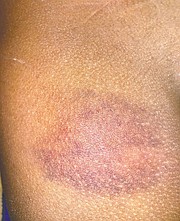 By EARYEL BOWLEG
Tribune Staff Reporter
ebowleg@tribunemedia.net
A BIMINI mother whose son was beaten to the point of bruising said she warned school administrators not to beat him on his hip because his "kidney is in his pelvis".
Davaria Sherman said when she registered her now 11-year-old son at the Bimini Primary School, she told school administrators about her son's condition.
"He has pelvic kidney," she said, a condition where one or both kidneys do not move into their proper position when a baby is developing during pregnancy.
"Under any circumstance, he is not to get hit on his hip," she said. "So when I heard him complaining about pain and stuff, I examined his hip and I saw all the bruises on both sides of his hip and that's when I got concerned."
She said after the beating, a doctor on Bimini examined him and told her to pay close attention to her son.
"The doctor," she said, "just told me to give him medication, to check his urine, make sure there's no blood in the urine and to check for fever and vomiting."
She said her son has not shown signs of internal damage after the beating and is scheduled to be examined by an American doctor next month as part of his regular routine.
However, she said the episode caused her to seek counseling and left her eager for the results of the police investigation into the incident, which sparked debate about corporal punishment in The Bahamas.
National Security Minister Wayne Monroe has said he is awaiting a report from police on the matter.
Ms Sherman, who shared photos with The Tribune of the bruising, said her son's bottom was "red and purple over the entire hip".
"I didn't let him go to school the following day," she said. "He was kinda embarrassed as well because they got beaten in front of the entire school for something as simple as talking during break time. I feel like the officer belittled them too. He even used curse words, obscene language, telling them he don't beat, he does cutass, just speaking down on the kids."
Shane Rolle-Deveaux, the mother of a six-year-old boy who was also beaten, said she found out about the incident while bathing her child.
"It was like lumpy where he hit him and you could see the lump inside it because when I show the lady from Social Services, she said, 'oh look at the lumps'," she said.
Ms Rolle-Deveaux fears the matter will be swept under the rug.
"I feel like nothing coming out of that — that's how I feel," she said. "They're going to throw that under the rug. Furthermore, the police didn't want to take anyone's statement from here. That's why they had to wait for someone out of Freeport to come down and take our statements."