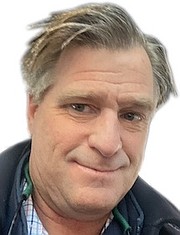 By Eric Wiberg
JUST before noon on Tuesday, June 6, 1944, the operational record book of base OTU 111 records that "B-25 FW-154 FR was airborne at 11.16am upon A/S [anti-submarine] patrol No 2. No W/T [radio] contact was made with this aircraft after 11.50am, when a long dash [Mayday] was received. At 1.50pm, a signal was received from the pilot, via government channels, that the aircraft had ditched in the sea two miles north of Tarpum Bay, Eleuthera, at 11.48 am.
The aircraft still had the RGs aboard [bombs] but these were first "safe". The crew were uninjured except the [wireless] operator who had facial injuries. The ASR [rescue] launch HMS P-712 was dispatched from Harbour Island and arrived at Rock Sound, Tarpum Bay, at 6.39 pm. Goose GB [Grumman amphibian aircraft] was airborne at 2.43pm with the Chief Ground Instructor, Medical Officer and Staff for the scene of the ditching. The aircraft returned to base and landed at 8.40pm, with the pilot of the ditched aircraft. The remainder of the crew were brought to Nassau in P-712, which berthed at the Prince George Dock at .05 am on the 7th."
The B-25 Mitchell bomber was a workhorse of Operational Training Unit 111, the RAF base at Oakes Field Nassau from 1942 to 1946. The 68-foot wide, 53-foot long aircraft was sent on thousands of missions, often several a day and night. Powered by two radial engines of 1,700 horsepower each. Armed with machine guns, torpedoes, rockets and bombs, it could achieve 272 miles per hour. The B-25 Mitchell was named for a pioneer in US aviation and known to the RAF as FW-154, with the tail number FR. It was one of fewer than 500 type B-25-D 30s built in Kansas City in 1942.
This plane began service in the Bahamas on December 2, 1943, and reported sighting a German U-boat on January 31, 1944. On 26 May she completed calibration exercises. Typically manned by a pilot, co-pilot, bombardier, navigator/radio operator, and gunner, in June of 1944 she was on her final certification flight before the four crew would be approved for combat in Europe or the Pacific. Less than eight months before another B-25 out of Nassau had crash-dived at Bannerman Town, southern Eleuthera.
Prior to the crash on 6 June 1944, FW-154 FR was only airborne 32 minutes, from 1116 to 11.48am. When the pilot of this aircraft realised that they would have to land on the ocean, he ditched the depth charges, which were set to "live". The crew appear to have extricated themselves, including the radioman who was probably blinded by his injuries, from the craft end made their way ashore using the auto-inflate emergency rafts, perhaps with some assistance from nearby fishermen. That day signals were sent from the United States military to the effect that "No serious injuries to the crew were reported, and rescue operations are being conducted at the Nassau station of the RAF". Later they added "Salvage operations being conducted." The latitude and longitude given for "Tarpen Bay" was to the northeast, and on land.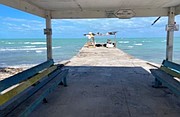 In any event the plane slipped 24 feet beneath the surface of the clear waters and out of consciousness of any except fishermen who liked to hand-line for the fish aggregating there and crawfish which sought shelter under the fuselage. Since the four survivors of the plane plus rescuing crash boat crews and senior leaders from Nassau were all able to observe the plane in the water and calculate its relative distance to shore, this seemed a very findable wreck. Except that the waters in the area are murky, particularly after storms, and the waters can be so choppy that many fishermen simply pull their boats out rather than moor them. The fact that all crew survived further suggests that the plane did not break up on impact. Finding the plane seemed as simple as going to Tarpum Bay, inquiring after fishermen, and engaging one of them to take me to the site, where I would put on a mask and fins and – pesto! – find myself atop another World War II bomber. Would that the world operated so smoothly.
I did make my way back to Tarpum Bay in 2023 but our boat was too deep, the weather too bad, and we had to rely on interviews with well-respected fishermen and community leaders, including Captain John McCarthy, known by his boat name Big Mac, Captain Andrew Hunt, and Captain Sanjay Sawyer, all fishermen based in Tarpum Bay, a lovely community of roughly 750 persons nestled on the leeward, or "Caribbean" side of Eleuthera between Rock Sound and Windemere Island. A member of the town committee, Lawrence Carey was instrumental in introducing our three-man crew to the right people, and others, including Cleveland Knowles, bus fleet owner Ken Deveaux, former policeman Mr Pinder in Hatchet Bay who rented us a car, and another fisherman named Tobias Carey facilitated helpful introductions.
Given the inclement weather the fishermen were not afloat, so we were able to confirm from several of them that they had been eye-witness to the aircraft on the sea floor, had fished and dived it over the years, and that remnants of it were still there. Big Mac – an immensely tall and friendly man – promised he would take his daughter fishing there again and tell us where it was. We in turn promised to hire him to take us there when we returned in better weather.

We needed to know there is indeed a plane there and, short of actually touching it, through the proxy of well-reputed mariners, we know that it is. I asked folks who run a dive shop nearby, but trying to run their business without electricity was proving a more immediate focus of their energies! I only asked that if and as persons rediscover the aircraft, nothing be taken, for the sake of future visitors. This approach seems a win-win one, as ideally visitors would be willing to pay to see such an unusual sight as a World War II bomber in translucent shallow waters near a picturesque town.