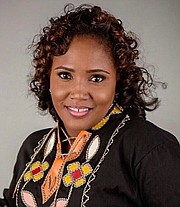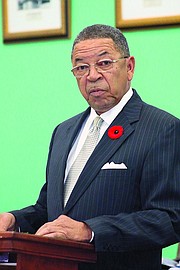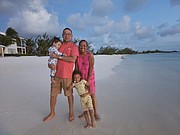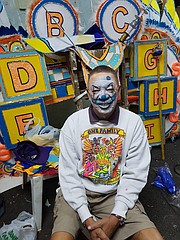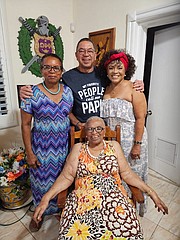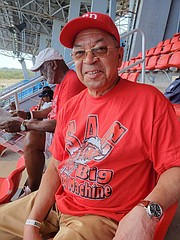 By FELICITY DARVILLE
"FAMILY" is the key word that has shaped the life of Hubert Anthony Chipman. His nuclear family with his wife Roxanne; his wider Chipman family and the clans of his heritage; his high school family that he never let go of; his church family; his political ties; and his Junkanoo tribe are all testaments to his sacrifice and his commitment to giving his all to the people he loves.
Affectionately known as "Chippie", Hubert's nickname is one also shared with his uncle, the late great cultural giant, John "Chippie" Chipman. John, along with Chippie's father Hubert, as well as a gang of Chipmans and others in the community, rushed on Bay Street religiously in the Junkanoo group, also known as Chippie.
He was at the tender age of seven when he first stepped foot on Bay Street. There began a love affair with Junkanoo that has never ended, and he mused: "I was born into Junkanoo." A statement like this brings pride today, but back in the 1960s when he was a child, a "Junkanoo" was a disgraceful term to some. "You ain't nuthin' but a Junkanoo" was a popular saying back then. Middle-class Bahamians tried to disassociate from what is now the country's beloved cultural affair. They would say that "drunk" and "crazy" people were the main ones who participated in the Junkanoo parade.
But this little seven-year-old knew that the people in his family, especially the men he looked up to like his father and uncle, were good people. The Chipman family is pregnant with amazing Bahamian cultural talent. Therefore, he found a safe space to enjoy this rich cultural legacy with his family. He recalls the fun he had as Chippie 'dem portrayed Romans for Boxing Day and Greeks for the New Year's parade that year.
This would be one of the first of many familial lessons he would learn that would shape his life into one of loyalty and respect.
He was born on November 5, 1953 (Guy Fawkes Day), to Hubert and Hazel Chipman (nee Sargent) in Nassau, Bahamas. Like many young people in his day, he dreamed of attending St Augustine's College (SAC). He got the opportunity to do so in 1966 - the last year that SAC would be an all-boys school.
Chippie was the first in his family to attend SAC, and for him, it was a huge honour. He says the discipline that SAC instilled in him, made him into the man he is today. When he arrived at SAC, Father Burton Blums served as principal. Students were taught by the Benedictine monks that lived on the property, at St Mary's Hall. Bonaventure Dean was Dean of students at that time, and Chippie got an immediate baptism in SAC pride and respect - values that just about every SAC student and alumnus has to this day.
He recalls that his beloved school had the most immaculate grounds. No student would walk on the grass or disrespect their school, and none would dream of ever looking shabby in their uniform, even after school hours. When Father Burton moved to Puerto Rico to continue serving as a Catholic educator, Mr Dean became the principal, and he "ran SAC with an iron fist", Chippie recalls. Not only did he require excellence from all students in their studies and pride in themselves and their surroundings, he also taught them how to think and act as a unit. With an "all for one and one for all attitude", Dean taught his SACV students the value of commitment and camaraderie, instilling in them that they were all family.
Back then, Chippie says, school began at eight in the morning and ended at 4:30pm. Students rode their bikes to school, as did Chippie. At lunchtime, the students sat together in a grassy area to eat and on Fridays, they were all treated to ice cream. By 1967, the girls from Xavier's College were integrated into the SAC system. Initially, the boys schooled on the upper campus and the girls were on the lower campus. Hours changed and school ended at 3.30. Graduation numbers naturally skyrocketed. When Chippie arrived, there were 11 graduates. By 1971, when he graduated from SAC, 137 students walked the stage.
The immense sense of belonging and school spirit never died in Chippie. In fact, he remained active in support of his school. Over the years, Chippie quietly provided financial assistance to The Big Red Machine's sports department, in particular, track and field. Remembering the teachings of the Benedictine monks, "to always give back and to lift as we climb", Chippie provided scholarships, and encouraged other alumni to join together to support students in need. The St Augustine's College Alumni Association (SACAA) found it fitting to give Chippie their highest honour - Alumni of the year. He will receive his award on Saturday, October 21, 2023 at Baha Mar along with 38 other honorees during SACAA's Red Diamond Soiree Lighthouse Awards and Gala Ball under the patronage of Prime Minister Philip E Davis under the theme: "Celebrating 78 Years of Excellence" (visit:https://thesacalumniassociation.org/).
As he looks back on his school years, he credits his teachers like Father Theophile Brown and Deacon Lou Adderley for helping to shape his character, but most of all, Bonaventure Dean, whom he says shaped him into the man he is today, and was the proudest black man he has ever met.
After graduating from SAC, Chippie worked as a waiter for a year in Grand Bahama in order to save up enough money to go to college. He was working part time as a busboy at a hotel while he was in school. His supervisor got a job in Freeport and took him along. Eventually, he moved in with another co-worker and he had to sleep on the floor, but his young mind was focused as he saved his coins for higher learning. He just wanted to save up enough for his first year of college, praying that the rest would work itself out. It did.
Chippie attended Dillard University in New Orleans, Louisiana, where he obtained a Bachelor's Degree in Accounting. There, he met the lovely Roxanne D'Orville, who ended up becoming his wife of 44 years. Mrs Chipman became one of the beloved SAC teachers and as a reading specialist, she helped shape SAC students for many years into individuals with excellent diction, a wide vocabulary, and great deportment.
Together, they are proud parents and parents-in-law to Dr Candice and Oumarou Shaw, Dr Alaina and David Leeks, and are the proud grandparents of four grandchildren. With Junkanoo deep in his blood, Chippie made sure that by the age of seven, each of his two daughters would have their rite of passage to rush on Bay Street, and that they continued to participate as they grew.
By 1979, Chippie was encouraged to join the Saxons by Jackson Burnside. He did so and with his accounting skills, he produced the first set of financials for the group, which allowed it to become viable for sponsorship, which allowed the group to become the Shell Saxon Superstars.
Eventually, he would move along with a breakaway group to form One Family Junkanoo Group. In the beginning stages, the group came fourth so many times that people would call members "Fort Fincastle" and "Fort Charlotte", along with any other "fourth" joke they could make up. However, today, as the reigning champion Junkanoo group, Chippie and the founding members of One Family have proven the group's worth.
Chippie's involvement in Junkanoo spans some 63 years. He was the founding chairman of One Family Junkanoo Group. In recognition of Chippie's contributions to Junkanoo, in 2021, he was awarded The Annual Independence Junkanoo Achievement Award and received his aquamarine jacket with pride.
With the same love and commitment, Chippie was engrossed with his family in their church as well, and they are faithful members of St Anslem's Catholic Church for the past 35 years. He serves as church usher and is the former Chairman of the finance committee. He was former Chairman of the Audit Committee of the Catholic Archdiocese and former member of Archbishop Burke's Advisory Committee. Chippie served on The Catholic Board of Education for 13 years; eleven of those as Board Chairman. For his selfless contributions, he was awarded the Papal Medal of St Gregory by the late Pope John Paul II.
In his professional life, Chippie is a retired certified public accountant. He moved through the ranks at Ernst & Young, becoming a partner in 1991. Chippie was named the Bahamas country managing partner of Ernst & Young on July 1, 2006 - a position he held until his retirement from the firm on March 31, 2012. During his tenure, he also served as a member of the executive committee of Ernst & Young, Bahamas, Bermuda and Cayman (BBC) region, and the leader of the Banking and Capital Markets Sector (BBC) region. Chippie received the lifetime achievement award for education from The Bahamas Institute of Chartered Accountants.
Chippie has served on several boards: Industrial Relations Board as deputy chairman, Bahamasair; the Education Loan Authority as deputy chairman; independent member of the Legal Tribunal, first chairman of the Straw Market Authority; and he is the director of Campbell Shipping and International Investment Bank, Ltd.
On May 7, 2022, Hubert Anthony Chipman was elected as a Member of Parliament for the St Anne's Constituency under the Free National Movement (FNM). He was also chairman of The Public Accounts Committee. While in the House of Assembly, he was the Shadow Minister of Foreign Affairs and Education.
He has fond memories of his time serving as MP for St Anne's, noting that he is still close with many constituents to this day. He kept an open door policy, and was available in his constituency office every Thursday afternoon. He answered his calls and walked his area frequently, committed to providing the people with the best representation he could.
Now that Chippie is retired, he has time to enjoy his favourite pastimes - cooking and deep-sea fishing. He is even considering hanging up his Junkanoo hat to watch from the bleachers with the spectators, something he found impossible to do before. As he approaches age 70, he is humbled by the lifetime achievement award he is set to receive. All he did was take great pride in himself and all he did, and he continued putting God first.