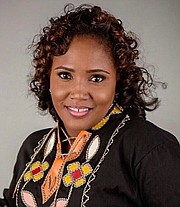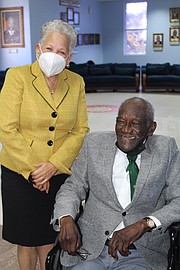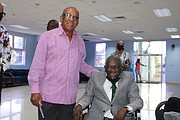 By FELICITY DARVILLE
IT was a spur of the moment decision that changed the trajectory of his entire life. He was 23 years old when he saw an ad in the Trinidad Guardian recruiting young men for the Police Force in The Bahamas. He read it and immediately knew it's what he wanted to do. Now, at age 95, retired Assistant Commissioner of Police Paul Rupert Thompson still says it was the best decision he made in his entire life.
He was born and raised in the village of Cunupia, Trinidad. After graduating from school, he became an apprentice machinist, working on the Trinidad Government Railways. He spent five years as an apprentice before becoming a professional machinist. He had been working in this position for two years when he first saw the ad in the newspaper.
The young Paul went to his supervisor to ask for time off, filled with hopes of a new life and career that could take him to higher heights in life.
"One day in Cunupia Village, we played a soccer match against a visiting team," he reminisced.
"We were sitting outside under a mango tree enjoying our time. There was a convenience store next to us, and the Guardian truck pulled up with the Sunday Guardian. I saw the ad, and I decided... Just like that!"
Paul made the journey to Port of Spain to the police barracks to make his application. When he got there, he met a line of "about a thousand men" waiting for their opportunity to do the same.
"I got on the line," he said.
"An officer came out with a loudspeaker: 'All persons with convictions of any sort, come off the line! You're just wasting time!' About half of the line moved. 'All persons married or have children in Trinidad, leave the line! We aren't letting you out of here!' So the line got shorter.
"I was an inch too short. They were looking for 5'9. I was 5'8. I was disappointed. As I was leaving, a police sergeant told me to go home and stretch and 'ting and come back tomorrow. So I went home, went to the railway's gym. A fella there gave me some stretches and 'ting and I did them. You had to take off your shoes - they measure your height in your socks. So, I put on about four pairs of football socks the next morning! So when I went back, and I had the inch. The fella say to me, 'Weren't you here yesterday?' I said no, sir! and I went through that and some other rough times I had. Eventually they took twelve. They didn't carry us.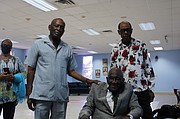 "So, I went back to work at the railway. A few days later, one of the men at the railway told me that a police officer was out there to see me. They said you better go out and see what he is saying before he comes in here and embarrass you! So I went out. He asked me if I have a passport. I said, no, sir. He said well, you are chosen to go to The Bahamas. You are with the second squad! So, you better come in and get your passport and everything sorted out!"
With excitement and hopefulness, the young Paul left his native Trinidad on Good Friday in 1951. The second squad spent Saturday in Jamaica before arriving in The Bahamas on Easter Sunday. Eighteen young men passed out of the Police College in New Providence in October of that year. Of that squad, two became Assistant Commissioners – Mr Thompson and Lawrence Major, a Bahamian. Three of them became Superintendents. There were less than 200 officers in the force at the time. This was a post-Independence Bahamas. Our Caribbean brothers and sisters like Paul Thomson, and retired Deputy Commissioner Keith Mason, played a magnificent role in creating a new Bahamas. Neighbouring countries sent teachers and nurses and other professions to help build up the society upon which we stand today. They have helped to set good standards for society, and their lineages are rooted in The Bahamas today.
Paul went on to become a most valuable asset for the Royal Bahamas Police Force (RBPF). Shortly after passing out of police college, someone heard the young officer giving testimony in court. They moved Paul to the Criminal Investigation Department (CID). He spent 17 consecutive years there. He was placed back in the uniformed branches for a short time, but it was decided that his assets were too valuable at CID. Altogether, he spent 25 years serving as a Criminal Investigator. He moved up the ranks from a Constable straight up to the Assistant Commissioner.
During his 39 years of service, Paul received at least 25 national and international commendations; among them: the Queen's Police Medal, the Colonial Police Medal, and a commendation from the Federal Bureau of Investigation (FBI).
Paul celebrated his 95th birthday at the Paul H Farquharson centre at the RBPF Headquarters, East Street in July. Family and friends gathered with current and retired top brass of the RBPF.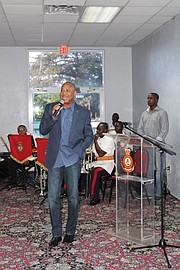 Commissioner of Police Clayton Fernander called him a "hero to our country". He called Paul a "living legend" who has "made a huge impact" on the careers of many police officers.
"He made it possible for many police officers to receive training in England; I am one of the recipients of that," Commissioner Fernander said.
Birthday toasts came from former Commissioner of Police Paul Farquharson, Rodney Moncur, and Fred Munnings, Paul's children and friends. He kept his Trinidadian culture alive, and even collaborated with Munnings on events which brought Trinidadian artists in town. He handed out CDs from popular Trinidadian artists like The Mighty Sparrow at his birthday celebration. Guests enjoyed roti and other cultural dishes and enjoyed local and Trinidadian music played by the Royal Bahamas Police Force Band.
His friends from the Trinidad Carnival Posse and the Commonwealth Wanderers including Blackie, Teddy and Taylor were all on hand to enjoy the festivities. The Royal Bahamas Police Force Band played a beautiful rendition of the Bahamas national anthem. It was followed by a brilliant recording of the Trindad national anthem.
"It was the best decision I could have made in my entire life," he said of coming to The Bahamas to live and work.
He was trained in Nassau, the United States and the United Kingdom and gave stellar service. Paul Thompson has published a historical book called "A Policeman's Story".
It is a rich document covering issues of national security at key moments in history. He speaks about the historic Commission of Inquiry which took place in Nassau, and his testimony of incidents, including a drug raid in Bimini.
His work has helped to shape effective systems of crime fighting and prevention in the country today. These include shanty town and immigration; crime and tourism; major disasters; changing police systems; police shootings and brutality; powers of arrest with and without warrants; domestic violence; and crime prevention and neighbourhood watch.
With nearly a century of life lived, Paul still wears a vibrant smile and is hopeful about life. His family, friends and Police colleagues gathered to make sure he knows that he is loved and appreciated.