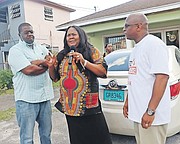 FREE National Movement leader Michael Pintard, alongside the party's St Barnabas Association We Care Team and the FNM's crime prevention and anti-violence team conducted a walkabout in the constituency to raise awareness of crime and its effects on the communities in our nation.
Shanendon Cartwright, St Barnabas MP gave his full support and was happy that the FNM crime prevention team chose his constituency to be the first community for this initiative.
The team last week went into hotspot areas where crime is at an all-time high to engage with residents and have conversations with them. The aim was to offer solutions by connecting individuals to the resources that are accessible for them to receive assistance for education programmes, social assistance, hotlines, and counselling.
The FNM said in these hard times, everyone is under stress and some are facing dark realities alone.
The crime prevision team recognises this and is committed to showing people in the community that they are not alone by offering moral and physical support.
The party said an intervention is needed in communities to reduce the high crime rate, which is trending.
The team encouraged more peaceful interactions between our citizens and ultimately safer communities in our country.