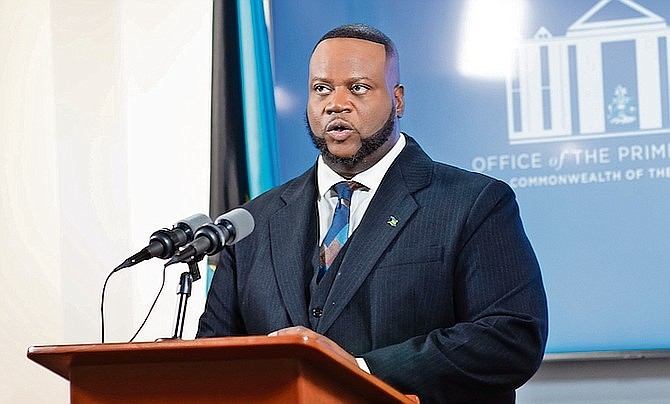 PRESS Secretary Clint Watson. (File photo)
By EARYEL BOWLEG
Tribune Staff Reporter
ebowleg@tribunemedia.net
AS Haitian pastors push the government to delay its shanty town demolition plans, press secretary Clint Watson says the Supreme Court will determine the pace of the government's actions.
Defence Force officers served residents in unregulated communities in SC Bootle Highway, Abaco, with notices of an upcoming Supreme Court hearing connected to the government's plans to demolish shanty town structures last week. According to a summons the Office of the Attorney General filed last month, the government is seeking to destroy 555 shanty town structures in New Providence and Abaco that were allegedly built in defiance of a previous Supreme Court order by Justice Cheryl Grant-Thompson.
"Those persons who receive notification of the property will have to appear before the court because what the government has before them is, of course, a declaration that they should not have been constructing buildings or any additional buildings (when) an injunction was in place," Mr Watson said. "The court will run its course in making that determination. Once that determination is made, then we could proceed to the next level."
Prime Minister Philip "Brave" Davis met more than 30 Haitian pastors on Tuesday night. The pastors asked for compassion so shanty town residents could find regulated housing, according to Bishop Celine St Louis, who attended Tuesday's meeting.
Asked if the Davis administration will delay its demolition plans, Mr Watson said: "The government is abiding by the court ruling when one comes. The court ruling when it comes will specify a time frame when it comes for those persons. The government will be obligated to abide by the court ruling. It's not a sit down around the table, let's figure out what we going to do. The government is abiding in this entire process by the courts to make sure there's transparency, there's accountability, and we follow the rule of law. Whatever the courts determine, the government will then make its move based on the courts."
Mr Watson said the government also wants the court to impose fines on people who breached Justice Grant-Thompson's orders.