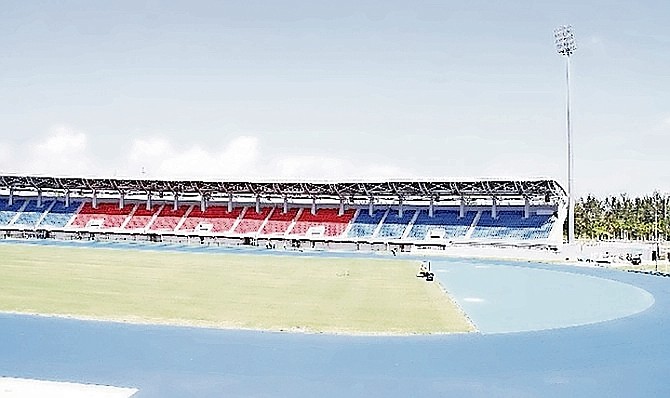 The Thomas A. Robinson Stadium underwent renovations in preparation for the upcoming CARIFTA Games.
By EARYEL BOWLEG
Tribune Staff Reporter
ebowleg@tribunemedia.net
THE Bahamas has spent $6.8m to host the upcoming CARIFTA games, which will feature 600 athletes from 28 countries starting April 7.
CARIFTA CEO Lynden Maycock said some $3.5m has been spent "on the operation side" and $2.5m "on the capital side".
Although he said resurfacing the surfaces of the old and new Thomas A Robinson stadiums cost an additional $3m, the government later clarified that only $839k was spent on resurfacing, including $159k on the old stadium and $680k on the new one.
"It is important to note that the resurfacing costs are separate from the ongoing capital project for maintaining the national stadium for ongoing usage," the Ministry of Youth, Sports & Culture said in a statement last night. "The Ministry of Youth, Sports and Culture is committed to ensuring that the stadium remains in optimal condition for current and future events.
"We apologise for any confusion this may have caused and appreciate your understanding. We remain committed to transparency and accountability in our spending."
For his part, Mr Maycock touted the long-term benefits of the investment when he addressed the media during a press conference at the Office of the Prime Minister yesterday.
"The good thing about the investment, they become a legacy for The Bahamas games," he said. "They become legacy assets for the World Relays and they become legacy assets for future events that will happen at the national stadium. So these are great investments for moving forward for all events that will be held here in New Providence."