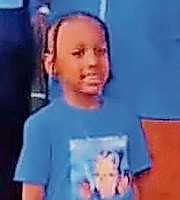 By DENISE MAYCOCK
Tribune Freeport Reporter
dmaycock@tribunemedia.net
A grieving mother said she still has not received an explanation for the apparent burns on her child's remains in the morgue.
Bianca Wilkinson wants an explanation of what happened to the body of her seven-year-old son, D'Karter Gibson, who died at the Rand Memorial Hospital in December.
Although she has laid her son to rest, Wilkinson said closure is needed so that she and her family can move on.
D'karter was admitted to the paediatric ward in early December after experiencing shortness of breath. He had previously suffered from seizure disorder, cerebral palsy, and asthma.
D'karter passed away on December 16. However, sometime between that date and January, his body appears to have suffered burns while at the morgue. Ms Wilkinson only became aware of the condition of the body after it was released to the mortician on January 18. She did not have an open-casket viewing at her son's funeral.
Health Minister Dr Michael Darville was asked recently by reporters about the matter and said they are still investigating the incident.
Ms Wilkinson believes it is unacceptable that she has not received a call or any answers.
"My thing is, if the body was properly stored, then what is it that you are investigating? How come I still have not gotten any answers or response as yet?"
"I just want to know the truth why my son's body was like that. We all are humans, we all make mistakes. Just say what happened … so we all can move on from this.
"That was my only child; it is not fair. I just want to know the truth, and that would be my closure," she said.