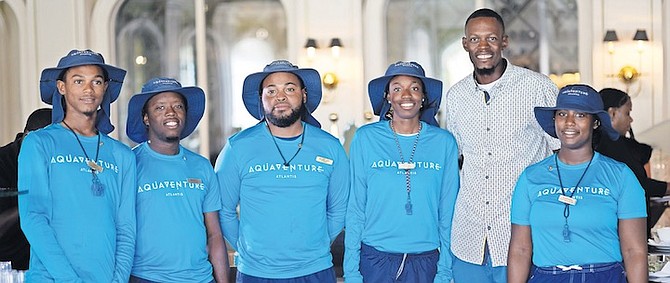 ATLANTIS and RIU Lifeguards recognised as heroes. From left: Adrian Bowe, Dremeco Rahmin, Sashaun Armbrister, Ashley F, Travis Sands and Matinique Leary. Photo: Moise Amisial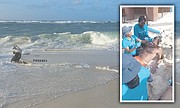 By LEANDRA ROLLE
Tribune Staff Reporter
lrolle@tribunemedia.net
A GROUP of Atlantis lifeguards were awarded for extraordinary bravery yesterday after risking their lives to rescue four men in rough seas at Paradise Island last weekend.
Sashuan Armbrister, Dremeco Lightbourne, Marinique Leary, Adrian Bowe and Riu lifeguard Travis Sands sprang into action on Saturday to save four boaters who found themselves in distress a few miles offshore from Cabbage Beach.
Armbrister, a former competitive swimmer, said he was about to clock out from work when he heard a boat had capsized.
The 26-year-old rushed to the scene where he saw four distressed men out at sea.
"Three were on top of the boat. One was floating off, I believe on a chair," he said. "We weren't going to swim straight to the boat because of how far it was and how dangerous the waters were so we watched them for about ten minutes."
"When they reached to the buoy lines is when we took action and I didn't really think. I just heard 'go and get them' and I went in - no fear, no excitement and no concern. In my mind, I was like gotta go in, gotta get there, gotta get them, gotta get back."
Armbrister had to brave the angry waves to collect the men.
He was the only lifeguard that was able to make it out to the vessel.
His colleague, Marinique, said she was unable to swim out from the shoreline because of the rough seas.
"Coming back was harder than going forward even though I have the waves pushing me," Armbrister added. "Because of the waves was bombarding me, I was rolling over, but I still fought. At one point, I got pulled under. I had to swim under and then pop back up and keep going."
"I reached the shore. I could not get back in. The pull was too much. I turned around and told them brace yourself, we're going to have to be thrown in. Right now, I had no idea what's happening around me."
"My co-workers are dealing with all of the people on the other side. By this point, one of the people had reached the beach and they're pulling in the next one on the side. I got my guys on the beach, took a moment and caught my breath."
Atlantis president and managing director Audrey Oswell thanked the lifeguards as she presented them with heroism awards and a complimentary three-day hotel yesterday morning. A dozen first responders were also recognised for their efforts and awarded life saver certificates.
"The successful rescue on Saturday demonstrated the team's commitment to leadership, teamwork, courage and water safety," Ms Oswell said.
Prime Minister Philip "Brave" Davis also applauded the group for their "exceptional bravery and quick thinking" and for going beyond the call of duty.
"I'm just filled with pride when I heard of the extraordinary actions of the courageous lifeguards at the Atlantis Royal Towers," Mr Davis said. "When four people found themselves in a dangerous situation out at sea, it just wasn't the wave they battled but also time, uncertainty and fear and yet in such dire circumstances, our lifeguards did not wait."
"Most of us will never have the skill and bravery to carry out what these individuals achieved that day and thankfully, most of us will never be faced it. However, we can learn from them - many of the values we should embody in our everyday lives."