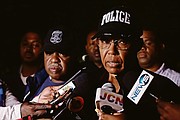 By Letre Sweeting
Tribune Staff Reporter
lsweeting@tribunemedia.net
A man in his mid-20s was shot dead while riding on a motorcycle in the Golden Gates area last night.
Around 9.30pm, the victim was riding west along St Bart's Road, in the Carmichael Road area, when a dark vehicle pulled up alongside him and the occupants shot him multiple times about his body.
Police, who were alerted to the gunshots by ShotSpotter technology, spoke to reporters on the scene.
"EMS responded and discovered that there were no vital signs of life. Hence we are commencing an investigation into this latest homicide," said Police Chief Superintendent Chrislyn Skippings.
"The men and women of the Royal Bahamas Police Force are very, very relentless and I can assure you within a short period of time, we will have them in custody. So they may be on the loose for now, but I can assure you we will get them in custody and we will do our part as an organisation to put them before the courts.
CSP Skippings also addressed the issue of violent crime in general and what members of the public can do to support police officers, rather than just keeping a count of the victims.
"Every death is painful. As a country, we need to re-focus our mindset, not on numbers, but rather what can we do collectively as a country to prevent these type of incidents from occurring. Every entity of society has to play a critical role in preventing these incidents from happening."
"So let's talk more about prevention, conflict resolution and sitting down and talking with our loved ones, finding out from them what's going on, and finding out from them who are (they) are in conflict with. Many of them know, but many of them, for some reason still feel afraid to come forward or they're afraid to talk to someone.
"We as a people, need to be able to communicate and talk to our loved ones. Let's encourage them. If you know something, come forward."
In addition, CSP Mark Barrett, of the Carmichael Road Southwestern Division, who was also on the scene, said there is a number of initiatives in place to counteract incidents like this latest one.
"One of the operations we have going on right now is what we call Operation Eradication, it's a joint operation that involves the police, the Department of Immigration, Customs, The Defence Force and Inland Revenue. And so we are converging on these areas where we can address the concerns of the citizens in these various communities."
"We as officers will converge on respective communities, particularly within the Carmichael Division and again, we address the concerns of the residents, because we know that the concerns vary. We want to tackle these concerns and deal with them head on and that will help us alleviate some of the crime problems we are having right now.
"We have another initiative that is ongoing, which is called Police to the Community. We appeal to members of the public to partner with the entire Royal Bahamas Police Force, but more so with this particular incident the Carmichael Road Division, so that we can resolve this matter in a timely fashion. We won't tolerate these type of incidents occurring within our communities."
Anyone with information on these crimes is asked to contact CID at 502- 9991/2 or Crime Stoppers at 328-(TIPS)-8477.