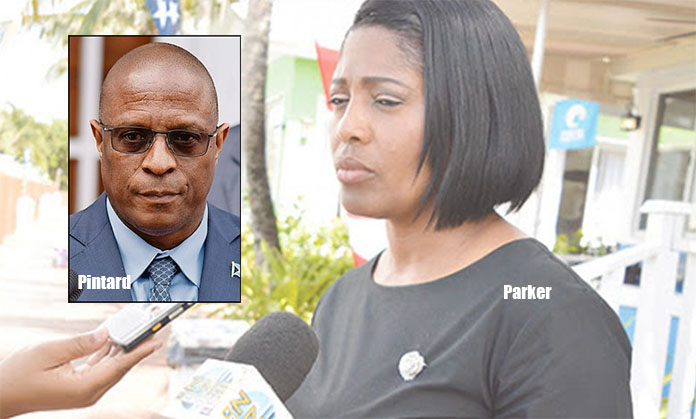 MICHAEL PINTARD AND PAKESIA PARKER
NASSAU| Bahamas Press is learning news out of the Free National Movement confirming that the Party has rejected Pakesia Parker as the FNM candidate in the upcoming bye-election for the seat of West End and Bimini.
The seat became vacant in Parliament following the death of its beloved MP Obie Wilchcombe on Monday morning.
Whilchcombe served as the Leader of Government Business in Parliament and Minister for Social Services and Broadcasting.
Opposition members gathered last evening to decide on who will become its candidate if it contests the seat. Former MP Parker, who was resoundingly defeated by Wilchcombe, wanted the nomination, but due to the fact that (one) she is a woman, and (two) is a hardcore hardline supporter of Hubert Minnis has been sidelined for the nomination. FNMs hate women candidates and even under the Minnis Government, only one woman served in the entire term before she was fired (Lianisha Rolle).
FNM Leader Michael Pintard is strong on locking out FNMs who support Minnis and has shut out both Ingraham and Minnis from speaking at Party events.
BP is learning the party will ratify preacher and police reservist Ricardo Grant as the FNM candidate in the upcoming race.
Notice of a vacated seat must be submitted to the Governor-General first through the Speaker of the House. Parliament reopens on Wednesday, October 4th. Once a notice is given to the Governor-General, HER Excellency Cynthia "Mother" Pratt, a writ of elections will be issued which will return a new member to the Lower House within 60 days. In short, following the burial of the beloved former MP Wilchcombe, the people of West End and Bimini can have a new MP elected before the end of November.
Some free advice for the FNM: Lynden Pindling could not deliver South Andros for the PLP following his demitting office back in 1997. And Hubert Ingraham could not deliver North Abaco following his demitting office in a bye-election in 2012. In short, we warn Michael Pintard – Prime Minister Philip Brave Davis KC MP is a dangerous election mechanic and he ga deliver this seat for OBIE! YOU IN THE FNM HAVE BEEN WARNED!
We report yinner decide!