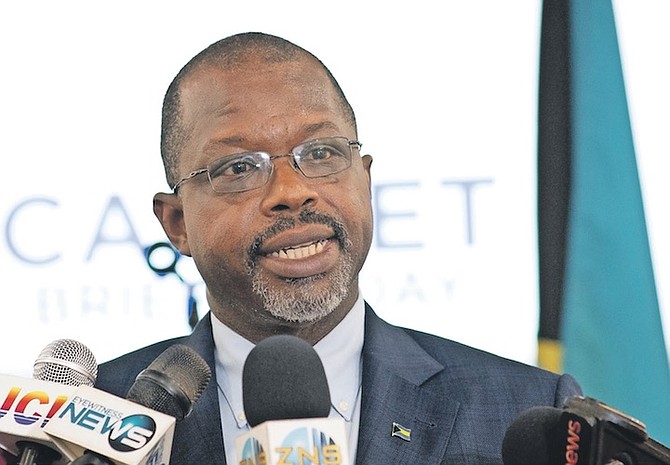 NATIONAL Security Minister Wayne Munroe.
By EARYEL BOWLEG
Tribune Staff Reporter
ebowleg@tribunemedia.net
NATIONAL Security Minister Wayne Munroe rejected criticism yesterday about the length of the police investigation into a woman's allegations of abuse involving a sitting MP.
Bjorn Ferguson, the lawyer of a woman who filed a complaint against the MP, recently said the length of the investigation shows a double standard in how police treat matters involving prominent people versus less influential people.
Mr Munroe countered yesterday that the length of investigations is driven by the facts of each case, not who a person is.
"So if you have an allegation with, we had them with tourists with the spring break things, it's fairly simple: they say they were raped, they come immediately to the police station. They're carried to the hospital. All of that happens in a short compass. Whether the person in that instance is rich, powerful, famous, doesn't really matter."
"I did one with a young baseball phenom from the US. That happened quickly because the female made the complaint right away. There have been others where if the longer it takes for you to come forward, then the more period of time that the police are investigating. That just stands to reason.
"So if you make a complaint a month later, they have to investigate your interactions and communications over that month. That takes longer than investigating your interaction (and) communications over one hour. So in my experience of 31 years, that's been my experience. It's been driven, not so much by the person but by the facts that the police are investigating."
The woman filed a complaint with the police about her ex-boyfriend on April 7.
On April 15, she showed The Tribune a copy of a document she had signed and submitted to the police when she met them for the third time.
Mr Munroe said he does not believe the police investigation has been excessive given the time between when the assault allegedly happened and when the alleged victim filed a complaint.