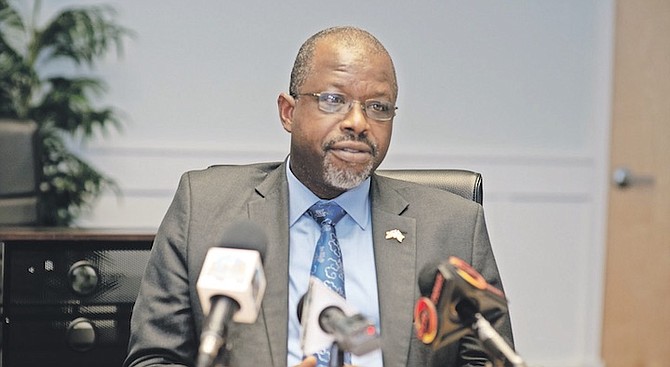 NATIONAL Security Minister Wayne Munroe.
By JADE RUSSELL
Tribune Staff Reporter
jrussell@tribunemedia.net
THE government will toughen up the requirements to obtain licensed firearms, National Security Minister Wayne Munroe said yesterday - including testing requiring the owners to show they can safely use the weapons.
He was responding to questions about whether people should be allowed to more easily get weapons to defend themselves.
"We are now looking at the issuance of weapons to anybody," he said. "I'll give you a starting example of what we are looking to change. We have between 20k or 30k licences for shotguns and rifles. I have a shotgun, I have a rifle. I obtained those about ten-odd years ago. I wasn't able to prove to the licensing authority that I can safely use either of them. Periodically, annually or every two years, I'm not required to prove that I can still safely use them. We intend to change that.
"A handgun, a shotgun, and a rifle is a lethal weapon and so we're gonna be concerned that the persons who we give permission to own them, to possess them, have sufficient knowledge to safely use them when they get them and to continue to safely use them going forward."
"Owning any firearm is a real responsibility and having the wrong attitude in owning it would be problematic and so, of course, care is issued when licences are issued for any class of firearm.
Mr Munore later told The Tribune people should have to take lessons on how to handle a firearm before they obtain a licence.
According to the Firearms Act, the Commissioner of Police can grant a gun licence if satisfied the applicant is a fit and proper person to receive the weapon.
The law further states: "Provided that a licence shall not be granted to a person whom the Commissioner has reason to believe to be prohibited by this Act from possessing a gun to which this Part of this Act applies, or to be of intemperate habits or unsound mind, or to be for any reason unfitted to be entrusted with such a gun."