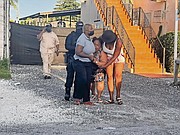 By EARYEL BOWLEG
Tribune Staff Reporter
ebowleg@tribunemedia.net
THE partially decomposed body of a man was found in a garbage bag inside the trunk of a vehicle near the Centreville Food Market.
While the victim was not identified by police, relatives at the scene of the discovery said he is 21-year-old Omar Davis Jr.
In the moments following the discovery, social media was flooded with videos and photos that portrayed the victim as an intelligent young man, with big aspirations and goals.
Davis recently graduated with a double degree from Central State University and a 4.0 cumulative GPA, according to a Facebook post back in May.
In 2018, he was an honouree in the Alpha Phi Alpha Fraternity honours day convocation and valedictorian for CI Gibson Secondary School.
During the event Davis gave a motivational speech telling the audience that he grew up in Kemp Road and that his father was murdered in front of him.
At the scene of the discovery yesterday, Chief Superintendent Michael Johnson, officer-in-charge of the Criminal Investigation Department, told reporters that sometime after 5pm yesterday police received information of a vehicle that was parked in a bushy area just at the rear of the foodstore. More specifically it was near Centreville Caribbean Liquor Store.
As relatives at the scene came to terms with this gruesome tragedy, they openly wept and a woman who was said to be the victim's mother was inconsolable.
He said: "When the police arrived, they noticed a black Honda Fit. All of the doors were closed and they became suspicious because there were some items in the vehicle that appeared to be that of a body.
"We were able to open the vehicle and uncover what we found to be remains of a male in a garbage bag with multiple wounds to the head, face, and chest area," he said.
"CSI persons, we collected a number of exhibits from the scene. We're looking at our missing persons reports to see who was reported missing within the last 24 or 48 hours and we're following significant leads in this matter."
Chief Superintendent Johnson added it appeared that the body was in the early stages of decomposition and could have been inside of the vehicle for about 24 hours.
He said the victim appeared to be in his early 20s or late teens.