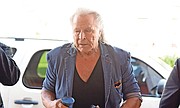 By JADE RUSSELL
Tribune Staff Reporter
jrussell@tribunemedia.net
THE sex crimes trial of Peter Nygard - a former long-time resident of Lyford Cay - began in Canada yesterday, two years after prosecutors in North America began accusing him of brazen attacks in multiple countries across several decades.
The trial is among several Nygard is expected to face in the coming years.
In addition to the trial in Canada, federal prosecutors in New York charged him in 2020 with sex trafficking, racketeering conspiracy and other crimes allegedly committed in the United States, Canada and The Bahamas.
A Canadian judge has ordered that Nygard be extradited to the US to face those charges after the conclusion of his trials in Canada.
In the current case, Nygard has pleaded not guilty to five counts of sexual assault and a single count of forcible confinement involving allegations connected to five women in the 1990s.
Prosecutors provided a synopsis of their case yesterday, saying Nygard's Toronto headquarters had a private bedroom suite where he allegedly sexually assaulted his victims.
The victims are expected to testify during the trial, though their identities will be concealed.
The UK newspaper The Guardian reported on yesterday's court proceedings.
According to the newspaper, a Crown lawyer, Ana Serban, described a case when Nygard, in his 40s, met a woman in her 20s on a flight to The Bahamas.
"Nygard later invited her for a job interview at his Toronto office," The Guardian reported. "When they ended up in the bedroom, she tried to leave."
"He 'tackles the woman onto the bed, puts his whole body into it, pins her down on her back and tries to undress her' against her will," said Serban. "She's terrified.'"
"Nygard is alleged to have given her a new blouse and skirt to replace those he tore during the attack. 'She runs out of the building,' Serban said. 'This was supposed to be a job interview at an office building.'"
In 2020, the Southern District of New York filed documents alleging that Nygard raped ten women, including nine Bahamians, in a wide-ranging criminal enterprise that involved intimidating victims and offering them hush money for over a decade.
The lawsuit claimed he evaded exposure by bribing local police and Progressive Liberal Party politicians.
Eight of Nygard's alleged Bahamian victims were between 14 and 18 when he raped them.
The indictment claimed Nygard's victims were typically young, vulnerable, and impoverished Bahamian girls he knew wouldn't report his crimes to the police. He allegedly kept a database of potential victims that was maintained by the IT department of his company. By the mid-2000s, the database allegedly featured information on over 7,500 underage girls and women.