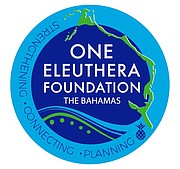 By Keyron Smith
of One Eleuthera Foundation
LAST month, I received an invitation to attend a Philanthropy Retreat in St Croix of the US Virgin Islands hosted by Deanna James, president of the St Croix Foundation for Community Development, and her team.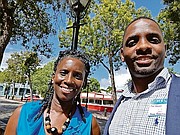 The retreat's theme was "The Power of Place: Reframing Old Paradigms in Philanthropy to Build Radical New Systems of Equity Rooted in Place."
At this event, I met over 25 passionate non-profit executives and programme managers from various regional and international foundations all leading the charge and driving change in their respective organisations and countries.
Some of the major foundations represented at the Retreat invest millions of dollars into non-profit programmes across the world annually such as the WK Kellog Foundation, Open Society Foundation, Grant Makers for Education, and Vieques Conservation and Historical Trust based in Puerto Rico among many others.
Attending the retreat made me think deeply and spurred progressive conversations in our group about the importance of breaking through traditional structural systems to drive equity and social justice for disenfranchised communities and the importance of place-based non-profit organisations in this work.
One of the key points that hit home from these discussions was the need for community organisations to recognise that some conventional systems of our colonial past do not always promote equity and social justice. This means that we cannot be fearful to challenge the conventional ways of thinking and systems we have embraced over the years if we want to effect social change in a meaningful way.
As a result, community leaders must continue to facilitate the empowerment of marginalised or disenfranchised communities and centre their work with the goals of advancing social justice and equity in their spaces of influence. As place-based organisations working in defined communities, we must continue to strengthen and improve the social and economic conditions that impact the well-being of the people and families living within.
Attending the retreat also made me reflect on how we in The Bahamas sometimes underestimate the nonprofit sector's potential to impact national development. Our governments constantly seek funding for new strategic investments for economic growth. However, many opportunities also exist for international philanthropic organisations to make direct charitable investments into programmes that tackle major social issues and uplift communities.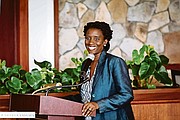 There are philanthropic organisations willing to support a variety of targeted programs which can include at-risk youth programs, community farming projects, technical skills training programs, and many others. The magnitude of giving by these philanthropic organisations is normally seen in times of major disasters but there are pathways to secure funding year-round for the right community programs that will make a real impact.
Another key observation was that the St Croix Foundation was able to bring together their local nonprofit consortium which can be similarly beneficial in The Bahamas. Often, we work in isolation and sometimes are unaware of what each other is doing in the sector within the country.
President Deanna James demonstrated that the St Croix Community Foundation was able to address these kinds of silos by establishing a consortium of 30 local non-profits in 2016 to foster trust and collaboration and share information. As a result, they have been able to see greater success with sharing information, collaborating on projects, and building stronger relationships to achieve their goals. It was amazing to see the power of non-profits converging to realize some of their shared goals and use their networks to strategise solutions and create connections to leverage resources.
Our conversations in St Croix showcased that across the region, we face similar and interconnected challenges within the sector and among the communities we serve. Even more so, the retreat allowed me to think of how we can address these issues through local, national, and regional partnerships and greater collaboration within the local non-profit sector.
Priscilla Elworthy, an NGO leader and peace builder, explains that "real change comes when people are enabled to use their thinking and their energy in a new way, using a different system of thought, different language, and having fresh visions of the future". It is my hope that we can adapt similar approaches in The Bahamas to help create the systems of change that can facilitate more national development.
• Keyron Smith is the chief operating officer at the One Eleuthera Foundation and Centre for Training and Innovation. Established in 2012, the One Eleuthera Foundation (OEF) is a non-profit organisation located in Rock Sound, Eleuthera. For more information, visit www.oneeleuthera.org or email info@oneeleuthera. org. The Centre for Training and Innovation (CTI) is the first and only postsecond-ary, non-profit education and training institution and social enterprise on Eleuthera. CTI operates a student training campus in Rock Sound, Eleuthera, with a 16-room training hotel, restaurant and farm. For more information about CTI's programmemes email: info@oneeleuthera.org