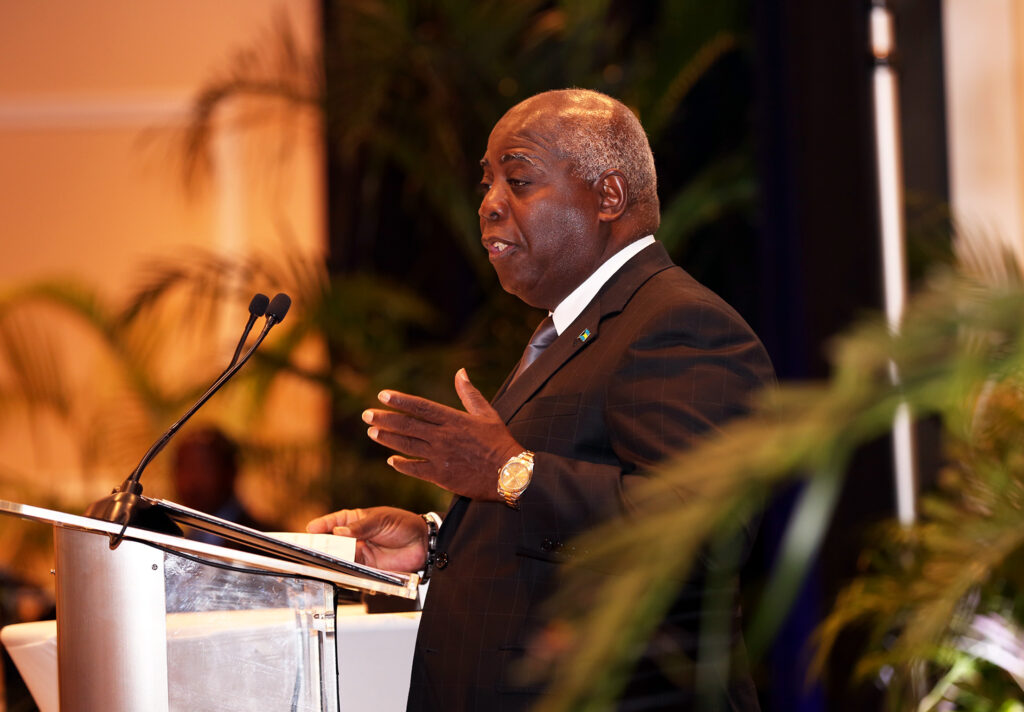 Prime Minister Philip Brave Davis KC MP
NASSAU, The Bahamas – Prime Minister and Minister of Finance the Hon. Philip Davis said, on May 24, 2023, that the "remarkable gathering" of the 2023 Financial Services Week Conference was "a testament to our collective commitment to celebrating the pivotal role of the Financial Services Industry and recognizing the unparalleled contributions of the Bahamas Institute of Financial Services".
"In light of the profound impact financial services have on our economy and their undeniable influence on many Bahamian professionals' lives, it's an inescapable truth that every week in our vibrant nation should, in essence, be considered financial services week," Prime Minister Davis said, during his Keynote Address at the event, held at the Baha Mar Convention Centre.
"In the face of adversity brought on by recent crises, our financial services industry has stood as a pillar of strength and resilience," he added. "This sector, which indeed serves as the bedrock of our economy, continues to offer unwavering support to our broader economic framework."
Prime Minister Davis pointed out that such resilience and stability had spurred the promotion of The Bahamas as a "safe harbour" for financial services.
"We want to assure every investor who chooses The Bahamas that they are investing in a nation renowned for its resilience, stability, and unyielding resolve to weather any storm that comes our way," he said.
Prime Minister Davis added that, in the aftermath of challenging times, such as those brought on by Hurricane Dorian and the COVID-19 pandemic, the financial services industry stood ready to lead the nation towards recovery and renewed growth.
"The Bahamas Financial Services Institute serves as a linchpin in maintaining our excellence in the realm of financial services," he said. "By actively promoting quality training and educational opportunities for local professionals, this institute plays an invaluable role in strengthening our industry and guiding its future development."
"Under the dynamic and visionary leadership of esteemed individuals such as Jermaine Williams and Kim Bodie, our financial services sector has grown stronger, more innovative, and more resilient than ever before," Prime Minister Davis added.
"The BIFS is our steadfast partner in our pursuit of innovation and jurisdictional excellence. Together, we continue to hold our own as formidable contenders on the international financial services stage."
Prime Minister Davis pointed out that The Bahamas' steadfast stance not only arose from its status as a tax-neutral jurisdiction, but also from the nation's unwavering commitment to principles of transparency, accountability, and integrity. Those values, he added, were ingrained in "the DNA of our financial services sector" and were the foundation upon which the industry stood.
"Our impressive pool of world-class expertise allows us to remain at the forefront of developing market-responsive, client-centric financial services products," he stated. "These include innovative solutions like Smart Funds and ICONs, which are designed with the needs of our clients at their core."
Prime Minister Davis noted that, per capita, The Bahamas boasted an unrivalled concentration of financial services talent.
"Bahamians are making their mark in various fields, from accountancy and trust management to law, insurance, and wealth management," he added. "This rich talent pool is a testament to our nation's capabilities and potential."
Prime Minister Davis noted that, as The Bahamas prepared for the introduction of the Global Minimum Corporate Tax and work towards resolving remaining issues with OECD Common Reporting Standards and EU Economic Reporting Standards, the nation remained "resolute and focused".
"Thanks to the diligent efforts of our financial services and compliance experts, we stand proud as one of only six nations worldwide that comply with all 40 FATF Recommendations," he said.
"Looking ahead, we are determined to maintain our position as a global leader in the regulation of digital assets," he added. "With the fintech industry experiencing rapid growth, we must continue building on our early strengths and remain competitive in the emerging digital era of financial services."
Prime Minister Davis noted that the Government was refining legislative framework to better accommodate and protect emerging crypto-based technologies, while also safeguarding market integrity in the decentralized crypto sphere.
"As we navigate the ever-evolving landscape of global standards, we place the utmost importance on maintaining compliance," he said. "We are committed to advocating for a fair and balanced approach to how these changes are enacted and enforced, to ensure that all nations, large and small, play by the same rules."
"Our success to date has been a balancing act of maintaining compliance while preserving our competitive edge on a global scale," Prime Minister Davis added. "Despite occasional challenges, we continue to ascend, with our financial services sector demonstrating unwavering strength and robust growth."
He stated that the key to The Bahamas' success within the financial services sector, as well as across the wider policy spectrum, laid in "our willingness to remain open to feedback and input."
"We are a government that values active listening and learning," he said. "I assure you that the openness and receptiveness that marked our first year will continue undiminished into the fifth year and beyond. Your perspectives and insights are invaluable to us."
Prime Minister Davis expressed his "profound appreciation" to organizations such as BIFS, BFSB, STEP Bahamas, BACO, among others. He said that the technical support they provided, coupled with their efforts to develop and promote the sector, were major factors contributing to The Bahamas' success as a financial services jurisdiction.
"It is through the tireless work of these distinguished organizations that we are able to forge such strong partnerships with the private sector," he said. "This enables us to ensure that their needs are met, their concerns addressed, and their innovative ideas integrated into our policymaking.
"The private sector's influence is evident in our legislative framework and policies."
Prime Minister Davis noted that engagement with stakeholders was "absolutely vital" in his Government's quest to create effective, responsive policies. He added that his Government remained committed to deep, inclusive engagement with all of The Bahamas' financial services stakeholders.
"This is the bedrock upon which we will develop policies that are grounded in the realities of practitioners and their clients, ensuring their intended effectiveness," he said.
"As we approach the upcoming budget season and look towards the next fiscal year, I am filled with optimism for the continued economic success of The Bahamas," Prime Minister Davis added. "I foresee a prosperous and thriving nation that continues to demonstrate its resilience and tenacity."
Prime Minister Davis pointed out that his Government's forthcoming legislative reforms and the revamp of our National Investment Framework through Bahamas Invest will create a "fertile ground" for investment. He added that, by capitalizing on the country's potential, The Bahamas aimed to position itself as a regional leader in Alternative Dispute Resolution and a global hub for arbitration.
"These positive changes are auspicious signs for our financial services sector," he said. "They offer compelling reasons for clients to choose The Bahamas for their trust, estate, and wealth management needs."
"They assure those seeking an innovative, stable, and successful environment to protect and grow their wealth, that The Bahamas is indeed the destination of choice."
Prime Minister Davis noted that the vital role of financial services as the second pillar of the Bahamian economy remained unshakeable. He added that, as his Government continued to innovate and evolve, that pillar will only become stronger and more robust.
"I am deeply committed to working in close partnership with the private sector to further grow this industry," he said. "Together, we can create abundant opportunities for our talented Bahamian professionals and ensure that we continue to develop innovative, market-driven vehicles for wealth generation and management."
Prime Minister Davis added: "In this gathering, we are fortunate to have some of the world's best and brightest minds in financial services. With such formidable support, we are filled with confidence and optimism for our future.
"Thank you, each and every one of you, for your dedication, hard work, and continued faith in the potential of our nation."