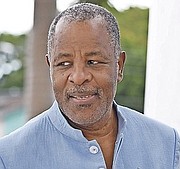 • Doubtful if petroleum retailers can justify request
• But dealers' president 'optimistic' over resolution
• 'No profit for seven years' through fixed margins
By NEIL HARTNELL
Tribune Business Editor
nhartnell@tribunemedia.net
FOCOL's chairman yesterday revealed he is now "less sure" that the magnitude of the margin increase sought by Bahamian petroleum retailers can be justified and urged them to supply evidence to prove their case.
Sir Franklyn Wilson, the BISX-listed petroleum products supplier's head, while emphasising to Tribune Business he was not opposed to "the principle" of a margin increase for gas station operators said he was less convinced "today than I was yesterday" about the per gallon rise they are seeing on a cents basis.
The Bahamas Petroleum Retailers Association (BPRA) told this newspaper earlier this week that it is seeking an increase in gasoline and diesel margins equal to 7 percent of the landed cost of fuel, but did not say what that figure will be in actual cents. And Sir Franklyn also suggested that the Association and its members not include COVID-19's fall-out in their calculations, asserting that the pandemic "is not in this".
Speaking after the three oil majors met with government representatives at the Prime Minister's Office on Wednesday afternoon, Sir Franklyn said he was "sworn to secrecy on the details" of what was discussed but added that "it's clear the Government is respectful of the views of the retailers".
However, he continued: "I must say that I'm not sure, as more and more information comes to light, about the strength of the case of the retailers. I'm less sure about that today than I was yesterday. It would be appropriate for the retailers to provide evidence to support and justify the basis of the magnitude, the quantum of the request they are asking for. I think if they can do that, that would be material.
"I think research is beginning to call into question whether or not they can really justify the request they are making in terms of cents. The level of the magnitude they are asking, I think it would be useful for them to provide the documentation to support it. I don't know what their exact figure is. Whatever it is, in order for them to sustain their case there needs to be a certain amount of transparency. We want 'y' cents and this is the case for it.
"That's as much as I can say, " Sir Franklyn continued. "That I think it's appropriate for them to justify the level of their request. If they can I think it will be material, but if they can't I think that also might be material.
"I think it would be appropriate for them to provide documentation, and if they wish to be transparent and sustain their claim to credibility it would be prudent for them to provide some accounting of substance, to produce documentary support as to why the level of request - not the principle of the request - is anywhere near reasonable.
"And let me also say this. It's important to separate any impact from COVID. COVID is not in this. COVID is something that was a separate matter. Without reference to COVID, demonstrate what is their request."
Clint Watson, the Prime Minister's press secretary, yesterday confirmed that three oil majors and wholesalers - Rubis, Sol Petroleum (Esso) and FOCOL (Shell) - met with government officials late on Wednesday afternoon at the Prime Minister's Office. Those officials now have to brief Philip Davis KC on the outcome before the weekend, and then the Association and its members will be summoned to another meeting with the Prime Minister and his team.
"A meeting was held last evening with the wholesalers, not the retailers," Mr Watson said. "So government would have met with the wholesalers last evening. And then.... the next process is to discuss with the Prime Minister what was discussed in those meetings so a determination can be made.
"And then meeting again with the retailers. So the meeting with the Prime Minister is expected to happen sometime between now and the weekend. And then they'll have to make a decision to go back to the retailers with."
The last margin increase enjoyed by gas station operators occurred in 2011, some 12 years ago, under the last Ingraham administration, and operating costs and inflationary pressures have increased substantially then. That took gasoline margins from 44 cents per gallon to 54 cents, where it has remained ever since, while diesel stands at 34 cents per gallon.
Raymond Jones, the Bahamas Petroleum Retailers Association's president, told this newspaper earlier this week that gas station operators are seeking a margin increase equal to 7 percent of the landed cost of fuel as their equivalent of a livable wage. He added that such an adjustment was critical "to allow us to survive as retailers" given that existing price-controlled fixed margins simply cannot cover a multitude of ever-increasing costs from 54 cents per gallon.
Mr Jones yesterday confirmed the Association and its members are waiting to meet again with the Government, and voiced optimism that a solution could be found for the benefit of all parties prior to the upcoming Easter weekend holiday. Acknowledging that the Government had planned to meet with the wholesalers before talking to the retailers again, he added: "I suspect at some point we'll get the call.
"We remain hopeful that's what will take place. We'll hold the Government to their word. So far it's taken longer than we wanted it to, but hopefully we can come to some resolution in the very near future. Since they've had that meeting [with the wholesalers], I suspect we will have our meeting in the very near future.
"We're hoping to find some amicable resolution to this whole dialogue. I'm optimistic we'll find a solution that works, hopefully before Good Friday." Vasco Bastian, the Association's vice-president, said he was waiting to see if the "one thumb's up" he is giving the Prime Minister's Office for its "five-star treatment" of petroleum retailers will turn to "two thumbs up" when the two sides next meet.
"We're definitely awaiting some communication from the Prime Minister's Office on when we're going to sit down with them again and come up with a solution to our plight," he told Tribune Business. "It's a slow process and we're just anxious. It takes time and we've been at it for a while."
Praising the Davis administration for being "the most accommodating in two decades" to the petroleum retail sector, Mr Bastian said: "We're hopeful we can come to some resolution, and whatever resolution we come to we will be happy and carry on with.
"It's been flat in this industry for the last five to seven years. There's been no profit. There's been no profit for the last five years. We've survived Dorian, we've survived a pandemic, and it takes at least three to four years to recoup what was lost in the pandemic. The pandemic was a disaster for the world. Other people were able to adjust their model, add to their mark-ups to recoup their losses. We cannot do that.
"In this industry, if the price of oil goes from $20 per barrel to $100 per barrel we are still only making 54 cents a gallon, but it costs us more to buy the same oil. If the price of oil goes up, we don't make more money. We run up costs when the price goes high, and the same costs that we accumulated when it was rising we still have to suffer that," Mr Bastian continued.
"It's not like having a floating margin to sustain ourselves. This thing is a mixed margin. This model is really too dated."