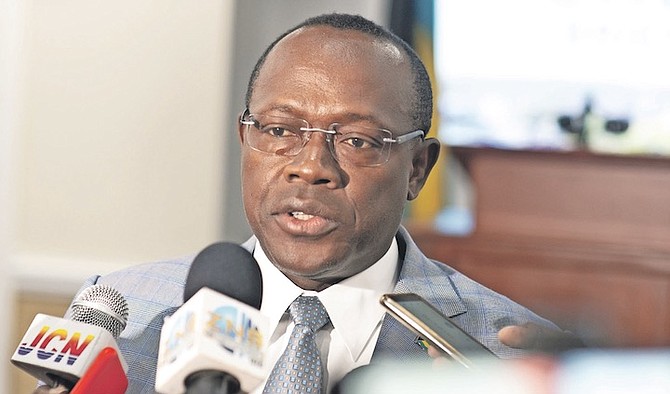 MINISTER of Tourism and Aviation Chester Cooper. Photo: Moise Amisial
By YOURI KEMP
Tribune Business Reporter
ykemp@tribunemedia.net
Deputy Prime Minister Chester Cooper yesterday said the slow period for tourism is a thing of the past as the country can now look forward to year-round tourism and hotel occupancy.
Mr Cooper, speaking at the Office of the Prime Minister's weekly press conference, told the media that the staff at the Ministry of Tourism, Investments and Aviation, where he is also the substantive minister, have been working very hard to ensure they build the Bahamas's tourism brand.
Mr Cooper also said: "We have worked very hard putting in place opportunities for increased airlift from many of our markets where we're focusing. On the west coast, we're seeing Jet Blue come in November, we're seeing much new airlift come from Seattle, LA and other cities, (like) Alaska Airlines. We see American Airlines ramping up significantly."
The increased airlift has come at a time when pent up demand is still high, and while analysts are claiming that revenge tourism is a thing of the past, there is still high interest in a Caribbean vacation and The Bahamas is high on the list of favourable destinations.
Mr Cooper also said: "As a result of all of the business strategies that we have put in place, as a result of the hard work of team tourism. As a result of the work we're doing in terms of research and the use of technology."
If tourists are not interested in swimming or heading to the beach there are lots of other activities that tourists can take advantage of like planning for their honeymoon or using one of the many hotel facilities around the country to use for conventions and large corporate meetings.
He also said that tourism this year is the "busiest" it has ever been and set to break 2019's previous record with 8m visitors for 2023. So far for this year tourism is pacing at 59 percent above 2022 and 30 percent above 2019, which was the country's busiest year for tourism.
Mr Cooper also said: "We so we see no reason, barring an act of God, that we won't surpass 8m visitors this year, which will be a record. In March alone, we had nearly one million business. So this should tell you about the pace at which this is all going.
He also said: "We're building capacity. We're improving our infrastructure, encouraging stakeholders to open more rooms and accelerate the investment in new, upscale accommodations.
"We are aware of some international trends, we are always doing research and following the trends in the marketplace. We have launched a new unit to focus on fraternal and large religious tourism business.
"We recognise that in Florida at the moment there is a boycott, if you will, by some of the fraternities of the Florida market because of certain comments made by their governor. We are going to continue to stay on cutting edge in terms of our research and we are going to seize opportunities when they present themselves."