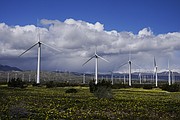 With CHARLIE HARPER
IT'S safe to say that most of us are significantly more aware of climate change, and its potential affects on our lives and those of our children and grandchildren, than we were even a decade ago. Also, the political import of the issue of climate change has receded somewhat in the US, particularly inasmuch as guns, anti-wokeness and abortion have overtaken climate change denial as a rallying issue for conservatives and Republicans.
People seem to be responding rationally to climate concerns. Electric cars are all the rage, demand is soaring for more and more car charging stations, and a casual remark about gas stoves not long ago sparked a brief panic and a stampede toward electric alternatives.
Reducing Western European dependence on Russian oil and natural gas has become a major sidebar issue as it becomes clear that the major European economies and societies have weathered the winter without flinching under steady Russian energy pressure.
Still, we're all talking about energy and climate change a lot these days. The United Nations is at the forefront of the conversation. Just last week, its Intergovernmental Panel on Climate Change issued the following assessments: "Human activities, principally through emissions of greenhouse gases, have unequivocally caused global warming, with global surface temperature reaching 1.1°C above 1850–1900 levels in the most recent decade (2011–2020). Global greenhouse gas emissions have continued to increase, with unequal historical and ongoing contributions arising from unsustainable energy use, land use and land-use change, lifestyles and patterns of consumption and production across regions, between and within countries, and among individuals (high confidence).
"Continued greenhouse gas emissions will lead to increasing global warming, with the best estimate of reaching 1.5°C in the near term in considered scenarios and modelled pathways. Every increment of global warming will intensify multiple and concurrent hazards (high confidence). Deep, rapid, and sustained reductions in greenhouse gas emissions would lead to a discernible slowdown in global warming within around two decades, and also to discernible changes in atmospheric composition within a few years (high confidence)."
In view of this blunt analysis, it was heartening to read this week that according to the US Energy Information Administration, in 2022 electricity generated from renewable energy sources like wind and solar surpassed coal in the United States for the first time ever. Renewable energy sources also surpassed nuclear power generation in 2022 after first doing in 2021.
Growth in wind and solar significantly drove the increase in renewable energy and contributed 14% of the electricity produced domestically in the US last year. California produced 26% of the national utility-scale solar electricity, followed by Texas with 16% and North Carolina with 8%.
The most wind generated power occurred in Texas, which accounted for 26% of the US total. The Lone Star state, whose independent energy grid basically collapsed two years ago, was followed by Iowa (10%) and Oklahoma (9%).
"This booming growth is driven largely by economics," said Gregory Wetstone, president and CEO of the American Council on Renewable Energy. Speaking to reporters, he said "over the past decade, the cost of wind energy declined by 70 percent, while the cost of solar power has declined by an even more impressive 90 percent.
"Renewable energy is now the most affordable source of new electricity in much of the country," said Wetstone.
The Energy Information Administration projected that the wind share of the U.S. electricity generation mix will increase from 11% to 12% from 2022 to 2023 and that solar will grow from 4% to 5% during the period. The natural gas share is expected to remain at 39% from 2022 to 2023, and coal is projected to decline from 20% last year to 17% this year.
These aren't startling percentage improvements, but the US still has the largest, most influential economy in the world. Marginal progress there is meaningful for the entire world.
"Wind and solar are going to be the backbone of the growth in renewables, but whether or not they can provide 100% of the US electricity without backup is something that engineers are debating," said Brown University' ecology professor Stephen Porder.
Reliance on wind and solar energy sources presents challenges for engineers and policy-makers, Porder said, "because existing energy grids were built to deliver power from a consistent source. Renewables such as solar and wind generate power intermittently. So storage in battery cells, long-distance transmission capacity and other steps will be needed to help address these challenges."
Notwithstanding America's progress, US government reports show that the US remains too heavily reliant on the burning of climate-changing fossil fuels. Coal-fired generation still represented 20% of the electricity sector in 2022, a decline from 23% in 2021. Natural gas, still abundant in America, remained the largest source of electricity in the US in 2022, generating 39% last year compared to 37% in 2021.
In other words, our western neighbour is making some progress in reversing climate change, but, along with other major economies, the US must do more, and do it more quickly.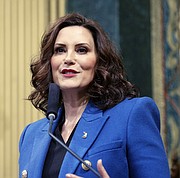 Landmark moment in labour law
Michigan's popular and glamorous governor Gretchen Whitmer signed into law this week a repeal of the state's Right to Work law that had been on the books for a decade. This is important for two reasons.
First, it keeps this talented and steady Democratic leader in the forefront of national politics, especially in the context of organised labour, long the mainstay of support for the Democratic Party in the US.
Secondly, it may mark a reversal in a 40-year downward trend for big labor unions in America. Once major power players on the national economic scene whose leaders were widely known and respected figures of real consequence, big labor unions in the US started to lose political influence rapidly under the administration of president Ronald Reagan in the 1980s. The decline has continued.
Right to Work laws prohibit union security agreements, which are contracts between a labor union and employers that require all employees benefiting from the union contract to pay union dues, according to a national organisation that tracks labor-management relations.
Thus, workers in unionised jobs can opt out of paying union dues and fees. Deprived of those dues, most labor unions are almost immediately disabled.
When Whitmer signed the bill, it made Michigan the first state in decades to repeal Right to Work legislation.
"Today, we are coming together to restore workers' rights, protect Michiganders on the job, and grow Michigan's middle class," Whitmer said.
"After decades of anti-worker attacks, Michigan has restored the balance of power for working people by passing laws to protect their freedom to bargain for the good wages, good benefits, and safe workplaces they deserve," said a state labor union president.
Even after Michigan's repeal, 26 states still have right to work laws, according to the National Conference of State Legislatures. They are virtually all politically Red.
And according to the US Bureau of Labor Statistics, trade union membership has been steadily falling for decades and reached an all-time low last year. Only roughly 10% of US wage and salary workers were members of unions in 2022, a decline from 2021 and the lowest union membership rate on record.
It's hard to tell if Whitmer has initiated a trend. The Democrats certainly hope so.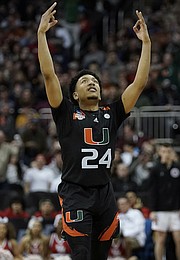 March Madness is well-named
March Madness has lived up to its name in the 2023 US men's collegiate basketball championship tournament. This is also true to a lesser extent for the women's tourney.
The Final Four of both tournaments occur this weekend. South Florida is well represented with both the University of Miami and Boca Raton's Florida Atlantic University among the men's semifinal teams. The Miami women made it to the quarterfinal round before they were eliminated.
Tomorrow evening's women's semifinal pits undefeated and defending champion South Carolina against Iowa, whose Caitlin Clark has become the predominant player in either tournament this month. The winner will be heavily favored against the LSU – Virginia Tech winner on Sunday.
Three Final Four rookie schools feature on the men's side. The FAU Owls are underdogs to San Diego State on Saturday, and the Hurricanes are tipped to lose to Connecticut, the overall favorite and only program that's been to the Final Four before.
Don't tell that to our local teams. They've been defying the odds so far and have played fearlessly.