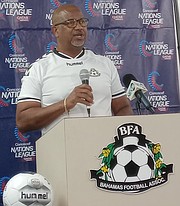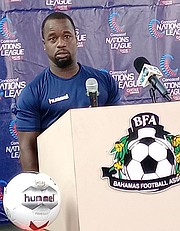 By BRENT STUBBS
Senior Sports Reporter
bstubbs@tribunemedia.net
AFTER months of preparation, assistant coach Kevin Davies said the Bahamas Football Association men's national soccer team is ready to compete in the CONCACAF Nations League.
The team, according to BFA's technical director Bruce Swan, will play their first of six matches in League B and Group D on Saturday at 6pm at the Thomas A. Robinson National Stadium against Puerto Rico in the first of their two games in September.
The team will travel on Saturday to face Guyana on Tuesday before they take a break and play Antigua in October and in November host Guyana before wrapping up the series in Puerto Rico in the return leg.
Davies, who will assist head coach Nesley Jean, said the team has been preparing for the past few months and the guys have been working very hard, putting in a lot of work.
"I've seen a lot of improvement between the start of training to now," said Davies, who noted that all of the players are in tip top shape. "At this moment, we're now putting in the final touches on the team getting ready for our first match on Saturday."
While most of the players had the opportunity to work together over the summer, this will be their first game playing together as a team and Davies said it's important to get a jump start in the tournament, especially with home advantage.
"It's important to start off any type of tournament fast, so a good showing this week will definitely put us in a good position moving forward," he said. "Not to say that you start off good, you can relax, but it puts you in a good position moving forward."
Team Bahamas is consisting of Cameron Pratt, Vance Wheaton, Antonio Beckford, Quinton Carey, Walter Sawyer, William Bayles, William Gardiner, William Evans, Alexiou Cartwright, Jaxon Bethel, Lesly St Fleur, Phieron Wilson, Christopher Rahming, Brandon Adderley, Nathan Neymour, Wood Julmis, Michael Masset, Nahum Johnson, Ricardo McPhee, Junior Kelly, Nathan Wells, Rashaan Bain and Miguel Thompson.
St Fleur, one of the veterans on the team, said they are well prepared for the game and, with the mixture of youth and experience, they should put up a very good performance.
"It's challenging as one of the older players on the team," he said. "I bring my knowledge and experience to the team to keep them together and we go from there."
While this is his first time playing against Puerto Rico, St Fleur said they hope they can avenge their 6-0 loss as they put up a fight to become victorious.
And Wilson, a former junior team player, said since joining the men's team in March, he's been pleased to see how they have been able to deal with their recovery and nutrition for the long haul of the three months of training and travel.
"We're looking forward to the games this weekend, playing Puerto Rico on Saturday and Guyana next Tuesday," he said. "It's going to be a good experience. The team is strong, it's young and it's healthy. We are looking forward to having a fantastic time and coming out with the victory."
Since making his debut with the senior men's national team, Wilson said he's getting into real good soccer shape and with his teammates and he's looking forward to putting on a show on Saturday.
Director of Sports Kelsie Johnson, who brought brief remarks on behalf of Minister of Youth, Sports and Culture Mario Bowleg, congratulated the BFA on hosting such a timely sporting event when the focus is more on team sports.
"We want to encourage members of the public to come out on Saturday to cheer on the team," said Johnson-Sills, who noted that the ministry will be present to lend their support to the BFA and the players.
"It's a journey. Getting into the higher stage or the top tier of competition is not easy, but I congratulate all of the athletes who, when they step on the field, they wear the flag of the Bahamas on their chest, which makes them super athletes. So, congratulations once again."
Also present were BFA's vice president Dion Peterson and Deputy Secretary General Carl Lynch and Ballin' By Da Beach Sports Management.
Tickets for the game are available online – Bahamasfa.net – at or from the box office at the Andre Rodgers Baseball Stadium. The prices are $35 for VIP with hors d'oeuvre, $20 for adults and $10 for children under the age of 13.
While the Bahamas will travel to play Guyana, Puerto Rico will remain in the Bahamas and host Antigua at 7pm on Tuesday at the stadium in their second game of the Nations League.
The Nations League is a qualifier for the Gold Cup, but because there is no Gold Cup until next year, Swan said the Bahamas will have a chance to qualify for League A.
On September 20, the Bahamas women's national team will host Grenada as they begin their quest for prominence on the international scene.