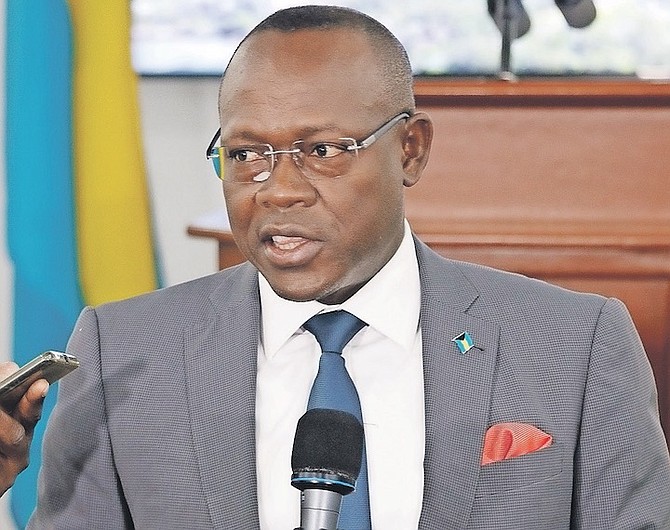 DEPUTY Prime Minister Chester Cooper.
By JADE RUSSELL
Tribune Staff Reporter
jrussell@tribunemedia.net
TOURISM Minister Chester Cooper said temporary facilities will be set up for the North Eleuthera airport to provide relief, saying a new airport for the island is still a priority of the government.
"We have heard the cries of the people of North Eleuthera and tourism stakeholders about the state of the airport," said Mr Cooper in a statement on his official Facebook page. "We can assure you a new airport is coming sooner rather than later. In the meantime, we are doing something about the situation by sending a temporary lounge to the island to provide some immediate relief."
North Eleuthera airport's state of disrepair is a major problem, especially due to it being one of the busiest airports in the country. Many have complained about the inadequate bathroom facilities, lack of seating, non-working air conditioning, and the congestion of the airport.
During an Office of the Prime Minister press briefing on Thursday, Mr Cooper was asked further about the relief provided to the North Eleuthera airport.
"As it relates to North Eleuthera this is the second or third busiest airport in the country," Mr Cooper told reporters on Thursday. "This environment is booming for tourists and residents. The circumstances at the airport were completely unacceptable.
"While we acknowledge that it will take some time to build a new airport. In the short term, we see the need to provide some immediate relief and therefore we have sought temporary facilities that we have acquired through the airport authority and they are enroute to North Eleuthera to provide temporary accommodations. I want to emphasise to the people of North Eleuthera that this is a temporary facility and North Eleuthera is high on the agenda by way of the government's priority to ensure that it also has a world-class airport."
The government launched the $260m Family Island Renaissance Programme to transform 14 Family Island airports. Exuma and North Eleuthera are projected to require the greatest capital to be spent.