The 24 scouts on the 35-day Trans Bhutan Trail trek reached Bumthang yesterday afternoon. With this, the team has covered more than half of the trail's 403-kilometre distance.
Upon arrival at Gaytsa in Chhumey Gewog, members of the Bumthang Scouts Association, Chhumey Gewog officials and the Gyatsa community welcomed the team.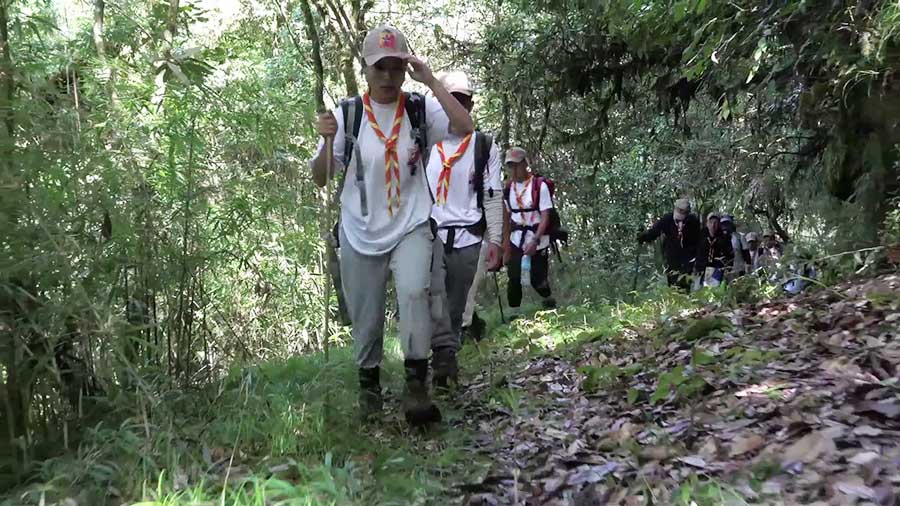 They covered over 19 kilometres from Trongsa to Bumthang, crossing the popular Yotongla, yesterday. The group has walked over 245 kilometres now starting from Haa on September 10.
It has been an adventurous and an enriching experience for the participants.
"It was a bit tough when we first started from Haa. The Pumola trek was also challenging, as it is the highest point of the trail. From Dochula to the leech-infested Thinleygang section, I got bitten by over two dozen of leeches. However, all these are part of the journey and I feel blessed to be able to take part in the event," said Leki Dorji, a scout from Samtse.
"I think the trail is tourist-ready as it is properly cleared. Moreover, as we came along there are so many things to see. I saw several wild animals such as bears, and monkeys and even came across the pug marks of tigers," said Pema, a scout from Bumthang.
"We came across different trees, plants and flowers. As we passed by different villages, we saw different lifestyles and cultures. The ancient trail has remained unspoilt. The entire trail is nice except in a few places but DeSuups are clearing them now. So far I liked the Trongsa to Bumthang section the most," said Pema Wangmo, another scout from Haa.
The trek from Haa to Trashigang was formally opened last week. His Majesty The King conceived the restoration of the Trans Bhutan Trail to revive and promote Bhutan's ancient trail.
The restoration was supported by the Bhutan Canada Foundation and its founder in partnership with the Tourism Council of Bhutan.
Kipchu, Bumthang