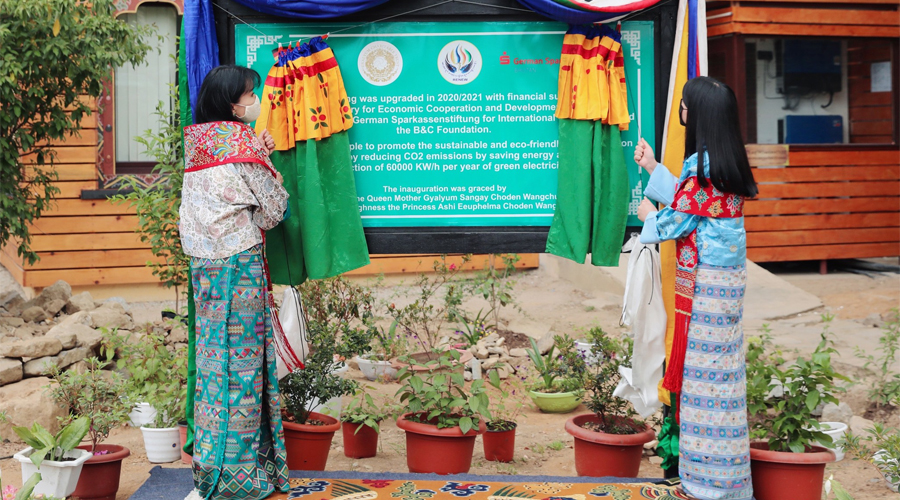 The RENEW office building in Thimphu has been renovated into an energy-efficient building. It is now insulated and is powered by solar energy. This is expected to help reduce energy consumption. Her Majesty the Queen Mother Sangay Choden Wangchuck and Her Royal Highness Princess Eeuphelma Choden Wangchuck graced the inauguration today.
Aside from the new look that it has today, the structure is insulated and has double-glazed windows. The newly renovated building is expected to reduce 40 per cent energy consumption in a year.
"When you look at the Bhutanese buildings, there are a lot of construction principles that just waste energy. The single glassed window, for example, is horrible. And what we want to do is of course save energy because in the wintertime we heard Bhutan is importing energy from India which is probably done by coal," said Uwe Drager (PhD), the Project Director for PRuDent.
He said the old building on an average consumed 45 thousand KWh per year.
"Usually the electricity cost is very high for us. So, for CSOs like us, I think it's going to benefit. It has changed the environment of our office. It has become warm and we are also free from noise pollution to some extent and then if we use a heater, our room gets warmer faster. And the retention is good," said Meenakshi Rai (PhD), the Programme and Service Director of RENEW.
Bhutan's domestic energy consumption has been rapidly increasing every year. As per the Department of Renewable Energy, the consumption peaked in January this year at 490 MW which is higher than the domestic generation. During winter, the country generates only about 414 MW of electricity.
"Building sector in Bhutan consumes around 42 per cent of the overall energy. And if you can do energy efficiency interventions in the building, you can have a thermal comfort of the building with a minimal amount of energy input. If one building does that and the next building does that, at a very macro level, if we talk about building sector, industry sector, transport sector, then you are saving around by our calculation saving 155 GWh of energy annually," said Phuntsho Namgyal, the Director of the Department of Renewable Energy.
The project was completed by the Project for Rural Development, PRuDent at the cost of more than Nu 18 M.
Samten Dolkar
Edited by Sangay Chezom