Scabies outbreak in Manxotae causes alarm
Days and nights have been turned into an itchy hell for children of Manxotae village, located some 70 kilometres east of Nata.
An outbreak of scabies, an infestation of the skin by the human itch mite, has left up to 100 kids in the village sporting bald patches on the head and a pimple-like rash all over their bodies.
For nine-year-old Tobo Tatolo, the infection started at the beginning of January and subsided a month later after receiving an ointment and a bar of soap from the local clinic.
DEEP WOUNDS: Tobo's scarred arm
However, by March, it had returned with a vengeance. Since then, the rash has spread like wildfire throughout the youngster's body, leaving deep wounds in his arms, legs and upper torso.
"It's painful. I can't sleep at night," he whimpers.
The shy little boy's mother, Kegomoditswe Tatolo, revealed at one point their kids were barred from coming to school, as the outbreak ravaged the small village.
"I remember samples were taken from a section of the students, but up to this day we've not received any feedback from the authorities," she said, adding that although his rash has not healed, Tobo has been allowed back at school.
The youthful mum said the health officials advised them to use washing powder to deal with the irritating infestation.
"It is really bad. This disease has spread so quickly, and it is not going away. My concern is I don't think enough is being done to deal with it," she said.
At nearby Maleele lands, scabies is now a common sight.
PAIN IN THE BUTT: The rash spreads to private parts
Patchy heads, rash-like soars on arms and legs characterise the little boys and girls that inquisitively surround the car, which has popped out of nowhere in their secluded haven.
A four-year-old sits on her mother's lap, flies feasting on the puss that oozes from her gaping sores. Her little forehead is covered in white spots.
"It's unbearable for me as a mother because she doesn't sleep at night. She continuously scratches herself, and in the morning this rash will be gaping wounds," Mogakololeng Nanogang tells The Voice as she lovingly cradles her daughter.
"The rash is everywhere, including her private parts. We have no idea what to do because the soap we got from the clinic is not working," continued the 32-year-old, who has signs of scabies on her ankle.
The concerned mother said the family-of-eight has been given one bar of soap to share, and the rash has since spread to her four other children.
"In January, only one child was infected. Today all five of my kids are covered in an itchy rash," complained Nanogang, waving off flies hungrily swarming around her toddler.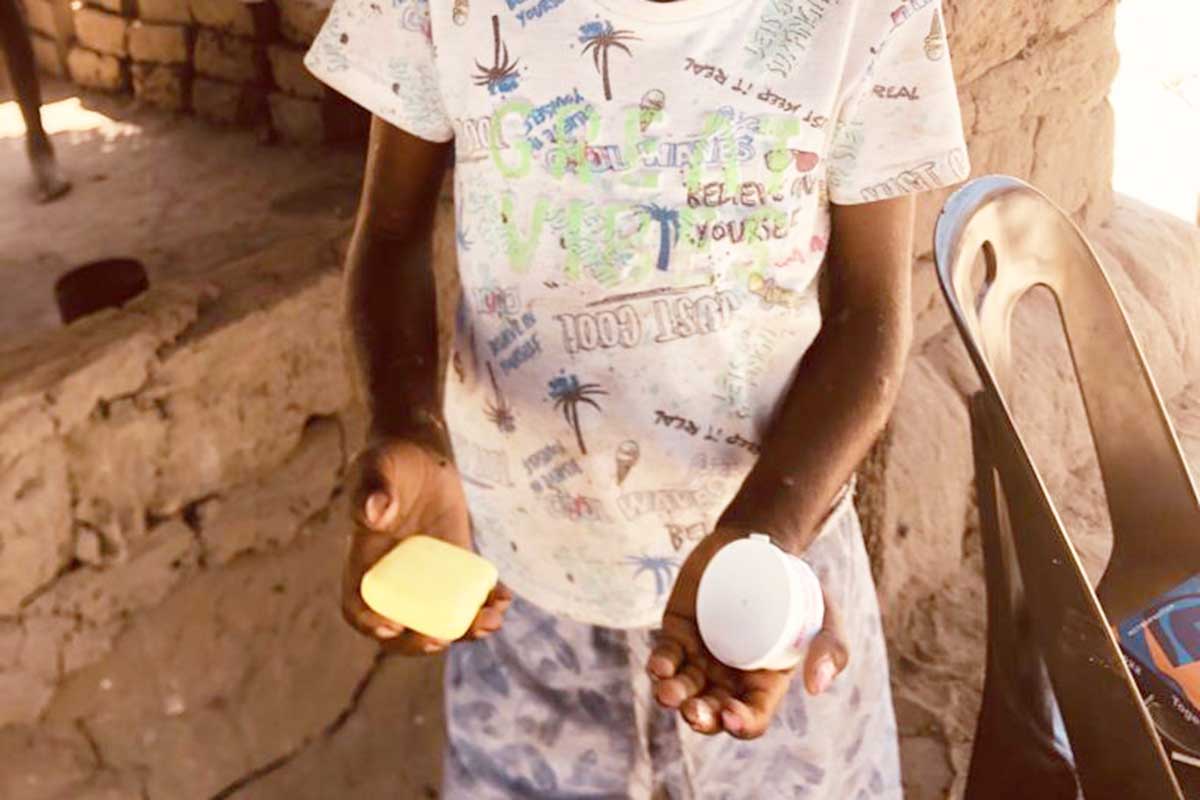 THE 'REMEDY': A bar of soap and an ointment
In an interview with area Member of Parliament (MP), Polson Majaga, the legislator said he was not aware of the outbreak.
"I was there this week and nobody has told me anything. My office has to know because this is an outbreak," he declared solemnly.
The MP later confirmed he has been updated about the situation by the Village Development Committee (VDC) Chairperson, who's also the Parents and Teachers Association (PTA) Chairperson.
A concerned health official who spoke to this publication on condition of anonymity insisted the outbreak could have been handled better had officials acted promptly.
"Now it's panic because it is out of control!" she said.
The Voice reached out to the District Health Management Team (DHMT) Coordinator, Keoratile Ntshambiwa, who was not ready to provide answers to the questionnaire sent.
"I'm yet to meet with my team, but I'll respond to your questions by the end of business tomorrow," she said.