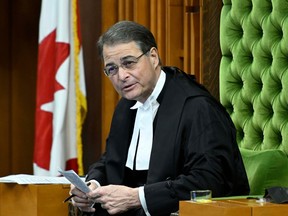 Speaker of the House of Commons Anthony Rota looks on during Question Period in the House of Commons on Parliament Hill in Ottawa on Thursday, June 16, 2022.

Photo by Justin Tang

/

The Canadian Press
Canada stumbled into an international incident after parliament honoured a Ukrainian vet who fought on the side of the Nazis in the Second World War.
Article content
This has created problems not just for the Liberal government, but for our Ukrainian allies.
National Post columnist Tasha Kheiriddin joins the show to discuss why the Liberals response to the incident was problematic, the fallout internationally and why this government struggles on international relations
Background reading: Tasha Kheiriddin: Trudeau's handling of Rota affair has very real implications for Ukraine
Subscribe to 10/3 on your favourite podcast app.




Our website is the place for the latest breaking news, exclusive scoops, longreads and provocative commentary. Please bookmark nationalpost.com and sign up for our daily newsletter, Posted, here.
Article content
Article content