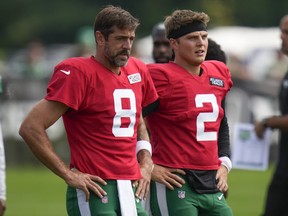 New York Jets quarterbacks Aaron Rodgers, left, and Zach Wilson warm-up during a practice.
AP Photo
With his New York Jets plunging rapidly into turmoil, Aaron Rodgers said Tuesday that current and former players, plus fans, need to resist the urge to "point fingers."
Article content
"When we're not having success, how do we respond?" Rodgers said during his regular Pat McAfee Show appearance. "How do we respond in adversity? And that goes for our fan base and former players as well. You're not helping the cause."
Article content
The reference to "former players" came after McAfee noted that Hall of Fame former Jets quarterback Joe Namath had engaged in withering criticism of current starter Zach Wilson during an appearance the day before on New York radio. Wilson, who returned to the starting role after Rodgers suffered a season-ending injury just four plays into his Jets debut, has continued to play with much of the ineffectiveness he showed in his first two seasons. Following a comeback win over the Buffalo Bills to open the season, New York has lost two games while scoring just 10 points both times.
Article content
While Wilson has continued to get public support from Jets Coach Robert Saleh, the same can't be said for Namath, who led the franchise to its only Super Bowl title in the 1968 season.
"I wouldn't keep him. I've seen enough of Zach Wilson," Namath, known more for making positive assessments of the Jets, said Monday on "The Michael Kay Show." "I don't believe he has a future as a good player."
Among those in apparent agreement with Namath was noted Jets fan "Fireman Ed" Anzalone, who shared a video shortly after New York lost Sunday to the New England Patriots in which he said Wilson "needs to be released or traded."
Less obviously directed at Wilson, but possibly more concerning to the team, was the frustration shown on the sideline Sunday by Jets wide receiver Garrett Wilson and running back Michael Carter. Both were seen in highly animated discussions with assistant coaches as their team lost its 15th straight game to the archrival Patriots.
By signing up you consent to receive the above newsletter from Postmedia Network Inc.
Thanks for signing up!
A welcome email is on its way. If you don't see it, please check your junk folder.
The next issue of Your Midday Sun will soon be in your inbox.
Article content
Article content
Rodgers, who arrived in New York via a blockbuster offseason trade from Green Bay, noted Tuesday that the Jets started 1-2 last season, then went on a 5-1 run that included a convincing road win over his Packers before struggling down the stretch and finishing 7-10.
"This is what teams have to go through. There's adversity points in every season," the four-time NFL MVP said. "This year, it's happening early, and people are coming for us. I've seen us in some heated conversations on the sideline, and different things, and I think we need to hold our poise a little bit better, really just offensively. We need to not have some of those things happen on the sideline and to just be a little better competitors."
Rodgers added that he thought his Jets "just need to grow up a little bit on offense."
Article content
"Don't point fingers at the coaching staff, don't point fingers at each other," he said. "Just get back to work and get the job done."
Saleh had said Monday that he was "not worried about the locker room."
"We've got a great locker room," said the coach, in his third season at the helm of the Jets. "We'll be fine."
To Namath, Saleh's nothing-to-see-here stance was more than questionable.
"Are you telling me there aren't some cats on the defensive side saying, 'Whoa, man, what's wrong with you?' There's not all harmony in the locker room, and if there is, you need to get rid of the people," said the 80-year-old in his radio appearance Monday. "You've got to get people in there who are competitors and want to fight to win. These guys don't have to be in love with each other."
Article content
Namath went on to suggest that not only did Wilson have to go, but possibly Saleh, offensive coordinator Nathaniel Hackett and GM Joe Douglas, as well. The Jets "need to make major changes, from top to bottom," he asserted.
"These guys aren't picking the right players," Namath said. "They aren't doing a good job of coaching. It's evident."
Namath is still the only Jets quarterback with so much as one 4,000-yard passing season to his credit. If Wilson wants to become the second this year, he will need to turn things around in a hurry, even with a 17-game schedule. The former No. 2 pick is on pace to throw for approximately 2,650 yards and just 11 touchdowns, plus 23 interceptions with 45 sacks taken. Advanced metrics tell a similarly grisly tale. Wilson is last among qualified quarterbacks in expected points added per play and ahead of only the Chicago Bears' Justin Fields in defence-adjusted value over average.
Article content
Meanwhile, Pro Football Focus has the Jets' defence rated fifth overall as a unit, and their special teams check in at 11th. The team's pass-blocking received just the 24th-best grade in the league, suggesting that Wilson is not solely to blame for his struggles, but the analytics website rated him 32nd in passing.
"It starts with me," Wilson said Monday. "I've got to find a way to be better."
The Jets took what could only be considered a minor step toward addressing their quarterback situation Tuesday by signing Trevor Siemian to their practice squad. Now in his seventh NFL season, Siemian has made 30 starts for four teams and has completed 58.9 percent of his passes for 7,027 yards, 42 touchdowns and 28 interceptions, with an 81.1 career passer rating. One of his starts came with the 2019 Jets, but it lasted just a few plays before he suffered a season-ending injury while getting tackled.
Article content
That's a painfully familiar scenario for Rodgers, who, in addition to helping the Jets end the NFL's longest playoff drought at 12 seasons, was expected to continue mentoring Wilson while keeping the latter off the field in a backup role.
On Tuesday, Rodgers made his appearance on McAfee's program while back at his residence in Malibu, Calif., recovering from surgery to repair his ruptured Achilles' tendon. The former Super Bowl winner with the Packers acknowledged that it was "really hard" not to be around his new team during a fraught — and fractious — start to the season.
"I feel like if I was there, some of those things wouldn't be happening," Rodgers said. "I'm not sure we'd be 3-0. I don't know that. I'd like to think there's a possibility of that, but it's more the side stuff that I don't like, and I want to see us stick together through the tough times."
Article content