'He shouldn't be DMing normal girls and asking them for pictures'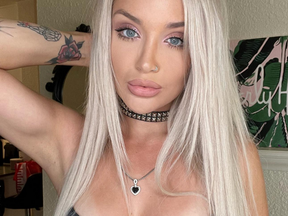 Alyson Rose
Photo by Instagram
Alyson Rosef is making the most of Adam Levine's allegedly flirty texts.
According to Page Six, Rosef, who goes professionally by the last name Rose, will pocket an "undisclosed (large) sum of money" to appear at Larry Flynt's Hustler Club in Las Vegas on Nov. 5.
From our newsroom to your inbox at noon, the latest headlines, stories, opinion and photos from the Toronto Sun.
By clicking on the sign up button you consent to receive the above newsletter from Postmedia Network Inc. You may unsubscribe any time by clicking on the unsubscribe link at the bottom of our emails. Postmedia Network Inc. | 365 Bloor Street East, Toronto, Ontario, M4W 3L4 | 416-383-2300
Thanks for signing up!
A welcome email is on its way. If you don't see it, please check your junk folder.
The next issue of Your Midday Sun will soon be in your inbox.
After Sumner Stroh went viral following her allegations that she had an affair with Levine, Rose was one of several other women who took to TikTok to share her own alleged communications with the Maroon 5 frontman.
In posts that have since been deleted, Rose said, "I shouldn't be talking to you you know right?"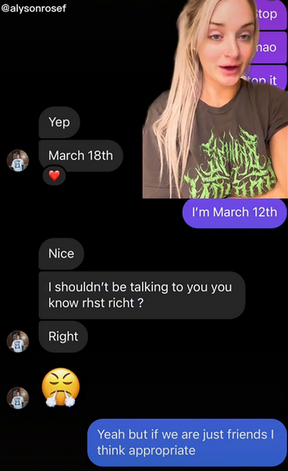 Alyson Rosef shared alleged messages between her and Adam Levine.

Photo by alysonrosef/TikTok

/

TikTok
In another exchange, Rose said she was "weird" and only likes to "listen to metal," to which Levine replied, "Said no hot chicks ever other than you."
"A lot of my friends knew, and they were shocked," Rose said, according to Page Six. "I guess if any other girls have experienced this with him … I just think they should post it 'cause I feel really bad for his wife, and nobody deserves this."
Rose later told InTouch that she didn't know Levine was married to Behati Prinsloo when he initiated his alleged flirtations.
"Even in the first messages to him, I went and scrolled through his page and was like, 'Oh s—, you have a girlfriend. I'm really sorry' … Did he call me hot and ask me for pictures? Yes, he did. Is that out of line? Yeah. Should I have been talking to him? Maybe not, but I was single," she told InTouch, before adding, "I didn't seek him out and I didn't meet him."
Rose went on to tell the mag that Levine was the one clearly in the wrong
"I do feel like he was out of line at the end of the day, but that's his own problem that he should work on," Rose told InTouch. "He crossed so many lines. He shouldn't be DMing normal girls and asking them for pictures, multiple girls, when he has a wife and is one of the most famous people ever."
The Instagram model added that they mostly talked about tattoos, but claims that many of the women Levine is accused of speaking to look similar to her. "They literally look like me," she said. "They have big blue eyes or have dark or blond hair. What are you doing, bro?"

Stroh was the first to accuse Levine of cheating on his wife in a viral TikTok video last week.
"Essentially, I was having an affair with a man who's married to a Victoria's Secret model. At the time, I was young, I was naive and, quite frankly, I feel exploited," she said.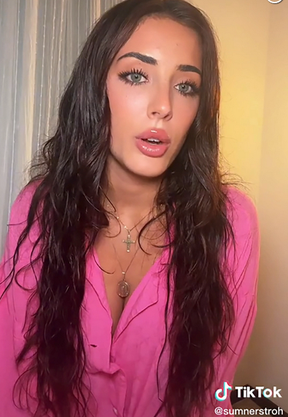 Model Sumner Stroh claimed on TikTok that Adam Levine cheated on wife Behati Prinsloo with her.

Photo by Sumner Stroh

/

TikTok
Stroh then revealed an Instagram DM allegedly written by Levine in which he wrote, "OK, serious question. I'm having another baby and if it's (a) boy, I really wanna name it Sumner. You OK with that? DEAD serious."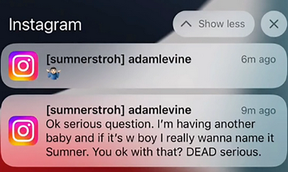 Adam Levine allegedly asked Sumner Stroh whether he could name his upcoming child after her.

Photo by Sumner Stroh

/

TikTok
Levine issued a statement on Instagram denying he had an affair, but acknowledged his behaviour "crossed the line."
"I used poor judgment in speaking with anyone other than my wife in ANY kind of flirtatious manner. I did not have an affair, nevertheless, I crossed the line during a regrettable period of my life," he wrote.
After more women came forward to accuse the Sugar singer of sending inappropriate text messages, including his former yoga teacher, Levine and Prinsloo were spotted putting on a united front in Las Vegas this week.
Prinsloo reportedly believes Levine when he says he did not have a "physical affair."
"Behati is upset but she does believe him that there was no physical affair," a source told EOnline. "They have been together this entire time. She feels they are happily married and is shocked to find out what was going on behind her back."
Model Sumner Stroh claims Adam Levine a cheat, wants to name baby after her

More women accuse Adam Levine of sending flirty messages: 'I feel bad for his wife'

Adam Levine's ex-yoga teacher says he treated her like 'trash'
mdaniell@postmedia.com
RECOMMENDED VIDEO