Worrying about the fate of Stage 3 LRT before we repair the transit system's day-to-day problems isn't the right way to go.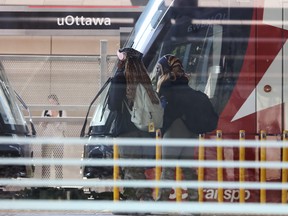 University of Ottawa students board a light-rail train on Sept. 21.

Photo by Jean Levac

/

Postmedia
Trust Ottawa to take one step forward and two steps back on light-trail transit.
This is what's happening in the wake of growing OC Transpo shortfalls which project revenue losses of $3.7 billion over the next 25 years, if current trends continue. That has led to rather daft suggestions from some suburban councillors that Stage 3 LRT to Barrhaven, Kanata and Stittsville be scrapped in favour of a bus transitway.
Article content
Article content
"Using buses out to Kanata and Stittsville would be about 20 to 30 per cent of the cost (of trains)," said Stittsville Coun. Glen Gower, who also happens to be chair of the transit commission. "We have a good Transitway corridor," agrees Barrhaven East Coun. Wilson Lo. "I don't feel we're using it to its full potential." Similar thinking comes from Kanata Coun. Cathy Curry.
Just like that, decades of LRT planning should be dumped for buses. I hope no one takes them seriously.
The cost of Stage 3 is now set at $6.5 billion, with $2.5 billion for Kanata-Stittsville and $4 billion for Barrhaven. Gower says the Kanata leg would cost 30 per cent less with a transitway, which would bring it down to $1.8 billion. But who pays? And what happens to Barrhaven? The city has long maintained it doesn't have money for Stage 3, and expects provincial and federal governments to foot the bill. But who knows: maybe it has $1.8 billion stashed away somewhere for a new busway.
The idea that Stage 3 LRT is now at risk for lack of money is nonsense. From the beginning, the city has counted on provincial and federal governments to fund the extension. And at no time have they said a flat-out no to the funding. Even in his much-quoted statement on the Confederation Line dysfunction, Premier Doug Ford never said he wouldn't fund Stage 3. He said there would be no funding until the city fixes the current mess. Which makes sense because no government should pump billions into a project until it is sure the money won't be wasted.
Article content
So, this report that Stage 3 may be unaffordable is bizarre, especially since the city never intended to fund it, and other governments have never said they won't. Why, then are we suddenly fixated on Stage 3, which is some nine years away, when Stage 2 isn't even completed? It is strange that the city is talking down Stage 3, when it needs provincial and federal government money. Talk about Ottawa shooting itself in the foot.
No doubt OC Transpo has serious problems, mainly declining ridership, much of it to do with the pandemic. And yes, fare revenue is down $101 million per year from what was projected when the Confederation Line was launched in 2019. But going into overdrive from there and projecting an alarming $3.7 billion revenue loss over 25 years is a scare tactic. The city needs to focus on today's problem, which is finding a way to bring back riders who are increasingly frustrated and considering alternatives.
Some of these problems are not pandemic-related. I have a friend who has been taking the bus for 20 years; lately her complaints are getting desperate. She often takes Bus 40 from St. Laurent Boulevard to medical appointments and visits friends. The bus is often late, and sometimes doesn't show up at all. On one occasion recently on the way to a medical appointment, a bus didn't show up at its scheduled time. When she called OC Transpo customer service, they were apologetic but couldn't even say when the next one would show up. Imagine that. The delays and cancellations have become so maddening, she is considering buying a car next spring.
Article content
These are everyday problems, and there may be many more like her out there. The challenge for the city and OC Transpo is to make every effort to improve the service now so people use it and stay with it. They should focus on today, not 25 years out.
Mohammed Adam is an Ottawa journalist and commentator. Reach him at nylamiles48@gmail.com
Related Stories
Denley: Given OC Transpo's dire financial numbers, simply maintaining mediocre service will be challenging

Deachman: OC Transpo needs to get good — and get good fast
Our website is your destination for up-to-the-minute news and smart commentary. Please bookmark ottawacitizen.com and sign up for our newsletters so we can keep you informed.
Article content