"My first duty as premier" is reversing the decline of French in Quebec, Legault said Wednesday in his inaugural speech, which also touched on everything from hydro dams to tax cuts.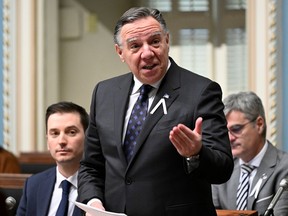 Quebec Premier François Legault speaks as the National Assembly sits for its 43rd legislature, Tuesday, November 29, 2022 in Quebec City.

Photo by Jacques Boissinot

/

The Canadian Press
QUEBEC — Buckle up.
With the COVID-19 pandemic in his rearview mirror, Premier François Legault outlined an ambitious new plan on Wednesday for his next four years in office — but with some very familiar themes.
Sign up to receive daily headline news from the Montreal Gazette, a division of Postmedia Network Inc.
By clicking on the sign up button you consent to receive the above newsletter from Postmedia Network Inc. You may unsubscribe any time by clicking on the unsubscribe link at the bottom of our emails. Postmedia Network Inc. | 365 Bloor Street East, Toronto, Ontario, M4W 3L4 | 416-383-2300
Thanks for signing up!
A welcome email is on its way. If you don't see it, please check your junk folder.
The next issue of Montreal Gazette Headline News will soon be in your inbox.
And if Quebec's minority communities thought the language and immigration debates were over with the adoption of Bill 96, overhauling the Charter of the French Language, and Bill 9, reforming the immigration system, they should think again.
Legault has those topics among the priorities for his second mandate, in which he plans to make up for time lost due to the pandemic.
"It is imperative to put an end to this decline and reverse the trend," Legault said regarding the state of French, as he delivered his inaugural address to MNAs seated in the National Assembly Wednesday. "It is my first duty as premier of the only state in North America which represents a francophone majority.
"The decline of French is an existential question for Quebec."
He was not specific on what other identity-related measures he plans to introduce in his second mandate, but it's clear he does not think Bill 96 alone is enough.
His minister responsible for French, Jean-François Roberge, has already said he is preparing a new plan he hopes will help stop the decline.
But on Tuesday, Roberge said such a plan will not be enough. He called for a "national awakening" at all levels of society before it is too late.
Legault did say he is not satisfied with waiting five years for the next batch of census data on the state of French that Quebec gets from Statistics Canada. He said he has asked Roberge to produce his yearly data in the form of a dashboard.
And as he did during the election campaign, Legault insisted "there is an undeniable link between Quebec's immigration policies and the vitality of the French language."
He cited data, noting it's not right that only 50 to 60 per cent of the new arrivals Quebec welcomes each year (out of a total of 50,000) speak French.
"We are now giving ourselves an objective of 100 per cent," Legault said. "It's a question of survival."
He noted other data: the percentage of Quebecers speaking French at home has slipped from 82.3 per cent to 77.5 per cent in 20 years. In Montreal, it has dropped from 54.6 per cent to 48.3 per cent.
Immigration is part of the solution, Legault argued. Picking his words carefully, he said: "New Quebecers are a richness for Quebec."
In a new twist on his usual speeches, he heaped praise on the presence of international students in Quebec's CEGEPs and universities. Often they choose to stay after graduation.
"It's good for language, it's good for the economy and it's good for our demography."
Legault had choice words, however, for the federal government, which controls the selection of 40 per cent of Quebec's immigrants. He said Ottawa needs to act now to control the arrival of asylum seekers crossing into the country at Roxham Road. Ottawa takes two years on average to process them, with Quebec paying the bills in the meantime.
Legault's speech, his third inaugural address as premier, ran long: one hour and 15 minutes. Unlike previous speeches, it was delivered entirely in French. Legault addressed the anglophone community Monday in an interview with the Montreal Gazette.
He did reach out to Indigenous nations, repeating that the government intends — in consultation with the people — to draft a charter of their languages similar to Quebec's French-language charter.
Repeatedly using the Coalition Avenir Québec campaign slogan "Continuons," Legault hit on many of the same themes he did in 2018: better health care, income tax cuts, better schools, low-cost housing, residences for seniors. In a sense, he was issuing marching orders for his newly formed cabinet, pointing at ministers as he made his way through the 29-page grocery list of ideas.
A new theme, as in the election campaign, is helping Quebecers fight inflation via cheques ranging from $400 to $600, and $2,000 in tax credits for low-income seniors.
If there was an indication of Legault's desire to carve himself a place in history, it was when he said he wanted to usher in a green economy during his new mandate, via a multi-layered plan.
The biggest kid on the block, however, remains Hydro-Québec. While the state-owned utility has the capacity to produce 200 terawatts of power a year, it will need to increase production by 100 terawatts by 2050 to run the new green economy.
Quebec can cut demand with efficiencies and increase wind and solar power, Legault said, but ultimately new power dams will be necessary. Given all the logistics, it can take 15 years to build a dam, he noted. He ruled out the nuclear option some countries have grabbed.
"To achieve carbon-neutral status by 2050, we need to produce a lot more electricity," Legault said. "We are going to have this debate all together, and we are going to take these crucial decisions in the mandate which is starting."
Legault also insisted he has not strayed from the first policy he drafted when he formed the CAQ 11 years ago. He is determined to reduce the wealth gap between Quebec and Ontario in particular. He said in four years of CAQ government, the gap has dropped from 16 to 13 per cent.
"Our destination is clear," Legault said. "We must continue to build a Quebec which is more prosperous, greener and prouder. I want a Quebec that wins."
pauthier@postmedia.com
twitter.com/philipauthier
There must be exceptions to 100% francophone immigration target, Fitzgibbon says

Parti Québécois raising the stakes on oath issue for National Assembly

One on one with Legault: I will protect anglo rights, premier says