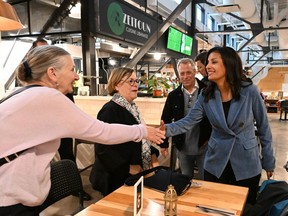 Quebec Liberal Leader Dominique Anglade, right, shakes hand with a shopper at a local farmer's market, Tuesday, Sept. 27, 2022 in Quebec City. Quebecers are going to the polls for a general election on Oct. 3rd.

Photo by Jacques Boissinot

/

The Canadian Press
SHERBROOKE — Liberal Party Leader Dominique Anglade called on Quebecers to look inside themselves and vote their conscience in the wake of and painting immigration as a threat made by incumbent premier François Legault and his immigration minister, Jean Boulet.
"Fundamentally in terms of DNA, what do you stand for, what are your values?" Anglade said at a campaign stop in Sherbrooke Thursday morning. "When you're going to vote at the end of the day on Monday, look inside yourself and say, 'Is this really what I want, this type of division for the future?'
Sign up to receive daily headline news from the Montreal Gazette, a division of Postmedia Network Inc.
By clicking on the sign up button you consent to receive the above newsletter from Postmedia Network Inc. You may unsubscribe any time by clicking on the unsubscribe link at the bottom of our emails. Postmedia Network Inc. | 365 Bloor Street East, Toronto, Ontario, M4W 3L4 | 416-383-2300
Thanks for signing up!
A welcome email is on its way. If you don't see it, please check your junk folder.
The next issue of Montreal Gazette Headline News will soon be in your inbox.
"This is the kind of question I would be asking myself, and I know the answer is not the CAQ."
Anglade was referring to comments made by outgoing immigration minister Boulet during a debate last week that "80 per cent of immigrants go to Montreal, do not work, do not speak French or do not adhere to the values of Quebec society."
The fallout over Boulet's comments was amplified when Legault told Montreal's chamber of commerce Wednesday that allowing more than 50,000 immigrants a year into the province would be "suicidal" for Quebec.
saying he misspoke. On Wednesday, Legault said Boulet had disqualified himself from the position of immigration minister if he was re-elected. He did not say whether Boulet would retain his labour minister post. Anglade said he should be removed. "I don't understand why he's still minister."
On Wednesday evening, Monsef Derraji, the Liberal incumbent MNA for the West Island riding of Nelligan, posted a video on Twitter featuring a compilation of anti-immigration statements made by Legault over the years, and Boulet's comments. The video, created by Derraji, was approved by the Liberal Party.
Anglade defended herself against criticism the party was engaging in U.S.-style attack ads. "The script was written by Mr. Legault himself. He should look at himself in the mirror."
The video had been viewed nearly 17,000 times by Thursday morning.
Depuis le début, François Legault tiens un discours basé sur le mépris des immigrants.
Sa politique flirte avec la division.

Le réélire c'est l'encourager dans sa dérive.

Le 3 octobre il faut lui dire un NON claire et net.#qc2022 #polqc pic.twitter.com/iwKiDdrFFv

— Monsef Derraji (@monsefderraji)

September 28, 2022
Asked whether the negative publicity over the immigration comments could translate into more seats for the Liberals, Anglade did not answer directly, but said she is hearing from more people on the ground that they are "fed up" with the political discourse they're hearing.
"I was at dinner last night and a woman told me she had been planning to vote CAQ, but not any more 'because what's happening now is really going too far. It's not us' ….
"What happened yesterday in Quebec, it illustrates all that has been happening in the last four years," Anglade said. "The statements of François Legault, be it on immigration, be it on anglophone or francophone minorities, be it on people with less money, be it on violence, it is always negative statements. We are millions of Quebecers, many here because of immigration, who built Quebec together. And we have huge challenges ahead of us. What François Legault is doing is purely is division."
Anglade was visiting ridings in the South Shore of Montreal Thursday afternoon and Hudson in the evening.
rbruemmer@postmedia.com
Live – Quebec election: Boulet apologizes again, won't say what Legault told him about possible cabinet post

Tap here for complete Quebec election coverage