The Liberal leader says her priority is ensuring people affected by post-tropical storm Fiona are safe and that has little to do with the election.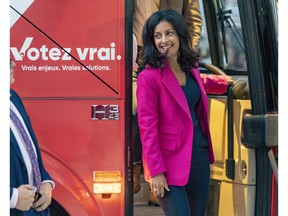 Quebec Liberal Party Leader Dominique Anglade exits her campaign bus Sept. 22, 2022.

Photo by John Mahoney

/

Montreal Gazette
GATINEAU — Quebec Liberal Party Leader Dominique Anglade says she's keeping a close eye on the situation as post-tropical storm Fiona bears down on Îles-de-la-Madeleine.
Anglade said she will hold scheduled campaign events Saturday but will not be making any announcements. Other party leaders partially suspended their campaigns.
Sign up to receive daily headline news from the Montreal Gazette, a division of Postmedia Network Inc.
By clicking on the sign up button you consent to receive the above newsletter from Postmedia Network Inc. You may unsubscribe any time by clicking on the unsubscribe link at the bottom of our emails. Postmedia Network Inc. | 365 Bloor Street East, Toronto, Ontario, M4W 3L4 | 416-383-2300
Thanks for signing up!
A welcome email is on its way. If you don't see it, please check your junk folder.
The next issue of Montreal Gazette Headline News will soon be in your inbox.
"We'll be on the ground with the people here in Outaouais, but my first thoughts are going to the people in Îles-de-la-Madeleine," Anglade said Saturday following a breakfast with local candidates.
Anglade said she's been communicating with her team in Îles-de-la-Madeleine since Friday night and didn't rule out visiting once the storm has passed.
She said her main priority is ensuring people are staying safe and have the resources they need.
"Honestly, this has nothing to do with the campaign," she said. "When you have a situation like this, you have to be with the people and support them, regardless of what's going on. What matters is the security of the people first and foremost."
Anglade has campaign stops scheduled throughout the day Saturday in Gatineau and Lachute, including an event for immigrant women.
This story will be updated.
jfeith@postmedia.com
Legault suspends campaign to deal with fallout of Hurricane Fiona

'It's important': Anglade says Legault should answer referendum question

Liberals remain best choice for anglophones, Anglade tells Gazette editorial board