Article Author:
Amy Dickinson
•
Postmedia Network Special Edition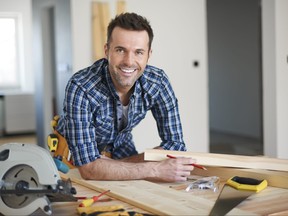 A A friendly contractor is making a divorced woman feel uncomfortable.

Photo by File Photo

/

Getty Images
Reviews and recommendations are unbiased and product has been independently selected. Postmedia may earn affiliate commissions from purchases made through links on this page.
Dear Amy: I am an elderly woman who has been divorced for over half her life.
Recently, I hired a worker (her 30 years younger than me) to update my house.
We became friendly while he worked at my house.
I have the utmost respect for him and I strongly believe that he respects me as well.
These feelings make me uncomfortable, but I can't seem to stop them.
I have never done anything like this in my life and I really don't want to now.
How should I handle this very uncomfortable situation?
– Older Woman
Dear Older Woman: Fifteen years ago, I asked a high school classmate to remodel my house. did. Instead, he turned my life around.
My point is "Mr. Right" – or "Mr. Right now" – in my own living room.
If you really don't want to be associated with this man, limit the amount of time you spend with him, make him finish the work you gave him, make him pay, send him away, and live your life. Live it – be it.
But life is short. Hot sex is great.
Know that you are safe and that you are entitled to stay safe. Go beyond Yelp reviews and do all you can to find out about this man. If you choose to do so, use a condom.
Changing your circumstances is not guaranteed to be seamless, happy, or easy.
Engagement with him is very likely to bring questions, uncertainty, and unpleasant upheaval.
Awakening is life affirming and beautiful.
Even the emotional pain that can come with the consequences of a "friends with benefits" scenario can be worth it. It's okay to be bold and sometimes wild.
You might be inspired by the Emma Thompson movie "Good Luck to You, Leo Grande" (currently streaming on Amazon Prime).
Dear Amy: "Trying to acclimatize" is an 8 hour hike in the heat where very young children (ages 2 and 4) are 'dragged'. " explained the discomfort of hiking with friends. And over rough terrain. The children walked almost on their own and "cried the whole time."
I was one of them.
I was taken backpacking when he was three years old. I learned to ski when he was 2 years old. When I had no choice but to fall behind, my parents wanted me to develop independence and stamina, and they said, 'Just keep moving forward.'
By the time I was his 14th Knife of Mt. Katahdin, Maine, left on his edge, Snow of Italy rescued by his patrols and carried on his shoulders by a stranger and carried to Mount Washington.
This behavior is traumatic for children and is only exacerbated when they are constantly pushed beyond their limits like this.
It's one thing to "not spoil" or "keep" a child.
Ignoring actual pain is another matter.
– JA
Dear JA: Some readers have commented that the parent's behavior described in the "trying to be considerate" question amounts to abuse There was an answer, and I agree.
In my response, I suggested a "trying" method of encouraging parents to reduce the duration and challenges of their annual hike this year, but I would not agree to that. Didn't focus on messy parenting choices, and I should have.
Thank you for your response. Mount Katahdin is described as a "very strenuous" hike of 8 to 12 hours. Even watching a video of a hiker on the mountain's famous knife edge (described as "deadly") was almost unbearable. I can't imagine being left alone there.
I appreciate the stranger's kindness. We also thank the professional rescuers who risk their personal safety to help those who are stranded or left behind.
You seem like a true survivor.
Dear Amy: "Irritated Sister" was annoyed by her brother's constant boasting. Ever since I was a child, my mother would always put my siblings on the bottom in competitions.
This sounds like my childhood. Overt parental favoritism damages sibling relationships throughout life. I found a way to get over it, but the grief continues.
– Another Frustration
Dear Frustration: Parents write the script, siblings spend the rest of their lives reciting it.
You'll get the latest headlines, stories, opinions and photos of the Toronto Her Sun from the newsroom to your inbox at noon.
By clicking the Sign Up button, you agree to receive the above newsletter from Postmedia Network Inc. You can unsubscribe at any time by clicking the unsubscribe link at the bottom of the email. Post Media Networks Inc. | 365 Bloor Street East, Toronto, Ontario, M4W 3L4 | 416-383-2300
Thank you for registering.
Sending welcome email. If you don't see it, please check your spam folder.
The next issue of Your Midday Sun will arrive in your mailbox shortly.