Article Author:
Amy Dickinson
•
Postmedia Network Special Edition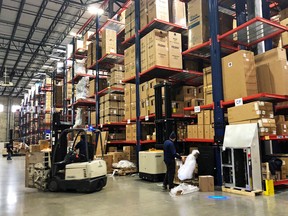 Warehouse Workers handle floor-to-ceiling inventory at the ABT Electronics facility in Glenview, Illinois.

Photo by Richa Naidu

/

REUTERS

Reviews and recommendations are unbiased and products are independently selected. Postmedia may earn affiliate commissions from purchases made through links on this page.

Dear Amy: I recently started a new job at a warehouse that employs thousands of people. As a result, there is always a long line waiting for a punchout turn after the shift.

But there will always be more than one person cutting in and punching first.

Especially after she's worked 8+ hours, I'm having a really hard time not getting mad or upset about this.

What can I say to myself or what thoughts can I adopt to overcome this.

– Troublesome

Dear Nuisance: You asked about adopting a new way of thinking about acting and going into management.

Recently, I have been researching 'calmness', which is described as 'calmness', especially under stress.

Serenity is not just acting calm, but actually being calm.

Her Pema Chodron, a Buddhist teacher, explains how to practice equanimity and outlines situations similar to yours.

This can be viewed as an opportunity to practice calming skills.

After your shift is over, you can say to yourself: Here is my "teacher", standing in line. please do not worry. I hang out here, quietly practicing equanimity and improving my life. We can also try to develop compassion for those who have seemingly urgent needs.

This does not excuse their rudeness.

Deciding to do so under these circumstances will also make you smile. Because you are taking advantage of other people's rudeness to actually make your own life better.

Dear Amy: My husband is not her parents' executor of the will.

He is his second and eldest of his three children.

His parents, at best, have a strained relationship with their daughter "Anne". She states that she gets nothing. Is called. when the time comes.

My question is why can't I tell her now?

When I asked them, their answer was, "...must be surprised."

I really don't understand why they can't see her face if it is so important to them.

Why do they want my husband to do the "dirty work" and ruin the relationship with my sister?

If she knows I believe that if I do, I will "move on" with my life instead of trying to please them before they are gone.

There is no law against revealing the contents of a will before death.

I feel they are putting her husband in a terrible position by making my husband the bearer of their wishes. Also, his sister would try to pressure her husband to change the terms of her will after his death.

It's all very complicated, but I think they'll do everyone a favor if I tell her what her decision is now before they're gone.

110} What do you think?

– In-law Sway

Dear Sway: I agree with you. Your in-laws seem very and unnecessarily mean as to their final wishes.

They also put your husband in a terrible position.

An executor must not disclose the details of a will without the permission of the testator (the person who wrote the will).

Your husband may renounce her position as executor if that is her will. There is a fairly simple process by which he can do this.

Imagine the look on his people's faces if he simply refused to participate in their cruel games.

But whatever you (or I) think, it's up to him how he handles this.

Dear Amy: In a recent reply to KK, you suggested that you ask your date, "Can I hold your hand?"

Amy. Of course he can...but he "might." That's the question.

– Glamarian

Dear Glamarian: That's right. Thank you for your correction.
You'll get the latest headlines, stories, opinions and photos of Toronto His Sun from the newsroom to your inbox at noon.
By clicking the Sign Up button, you agree to receive the above newsletter from Postmedia Network Inc. You can unsubscribe at any time by clicking the unsubscribe link at the bottom of the email. Post Media Networks Inc. | 365 Bloor Street East, Toronto, Ontario, M4W 3L4 | 416-383-2300
Thank you for registering.
Sending welcome email. If you don't see it, please check your spam folder.
The next issue of Your Midday Sun will arrive in your mailbox shortly.