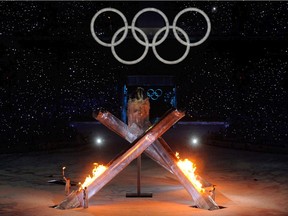 Olympic Cauldron 2010 Winter Olympics BC.
Photo by Ric Ernst
Supports $4 billion Indigenous-led bid for 2030 BC Winter Olympics A decision will not be made until the fall or early winter, government officials said Thursday.
The International Olympic Committee's submission deadline is he January.
The state is reviewing information it received earlier this week from the bid feasibility team in response to a question from Tourism, Arts, Culture and Sports Minister Melanie Mark.
In a June letter to the Canadian Olympic Committee, Mark told proponents of the $4 billion bid that "the state will You should not assume liability."
Not all responses have been received by the August 15th deadline. But the feasibility team said in an email that a schedule for supplying the missing parts was included in a package sent earlier this week. We asked a series of specific questions, including how much funding the four First Nations that lead
She also noted that the bid had independent socio-economic analysis of benefits and legacies and the "informed support" of all affected communities. requested proof of The game will affect them in terms of "transportation, police, security, and other local government services."
These communities include the resort villages of Vancouver, Whistler, and Sun Peaks. Her eight indigenous tribes are included.
States are evaluating whether their support for a bid is "consistent with state priorities such as affordability, economic and tourism recovery, reconciliation, housing and the environment."
Neither the feasibility team nor the government provided copies of the information, Corinna Fillion, a spokesperson for the ministry, said in an email. However, bid proponents said some information is available on the website gamesengagement.ca and will be updated as more details become available.
Sign up to receive daily headline news from Vancouver Sun, a division of Postmedia Network Inc.
Contributors: By clicking the subscribe button, you agree to receive the above newsletter from Postmedia Network Inc. You can unsubscribe at any time by clicking the unsubscribe link at the bottom of the email. Post Media Networks Inc. | 365 Bloor Street East, Toronto, Ontario, M4W 3L4 | 416-383-2300
Thank you for registering.
Sending welcome email. If you don't see it, please check your spam folder.
The next issue of the Vancouver Sun Headline News will arrive in your inbox shortly.