Here's your weekly roundup of climate change news for the week of Sept. 19 to Sept. 25, 2022.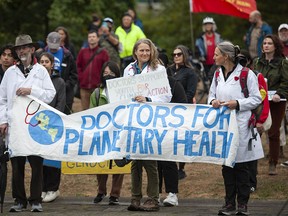 Various groups concerned with the environment gather at Coal Harbour Park in Vancouver on Friday, Sept. 23, 2022 for the Global Day of Action.

Photo by Jason Payne

/

PNG
Here's your weekly update with what you need to know about the global and ecological crises and the steps B.C. is taking for the week of Sept. 19 to Sept. 25, 2022.
This week in climate news:
Start your day with a roundup of B.C.-focused news and opinion delivered straight to your inbox at 7 a.m., Monday to Friday.
By clicking on the sign up button you consent to receive the above newsletter from Postmedia Network Inc. You may unsubscribe any time by clicking on the unsubscribe link at the bottom of our emails. Postmedia Network Inc. | 365 Bloor Street East, Toronto, Ontario, M4W 3L4 | 416-383-2300
Thanks for signing up!
A welcome email is on its way. If you don't see it, please check your junk folder.
The next issue of Sunrise presented by Vancouver Sun will soon be in your inbox.
• Youth rally for climate action in Vancouver as part of global day of action
• UBC researchers embark on voyage to study how climate change affects salps
• NDP leadership candidate says party should be at the front of the fight against climate change
• How climate change is fuelling hurricanes like Fiona
The UN's Intergovernmental Panel on Climate Change has warned for a decade that wildfires, drought, severe weather, such as B.C.'s deadly heat dome last June, and flooding would become more frequent and more intense because of the climate crisis.
Last August, it issued a "code red" for humanity and earlier this year the panel, made up of hundreds of scientists from around the world, said the window to stop global warming from exceeding 1.5 C was closing. Last month, it released a report with solutions for how to drive down greenhouse gas emissions, mainly by transitioning away from fossil fuels.
There is a scientific consensus on climate change (NASA reports that 97 per cent of climate scientists agree that the climate is warming and that human activity is the cause.) Multiple studies published in peer-reviewed scientific journals show that greenhouse gas emissions are the primary cause of global warming.
Check back here every Saturday for a roundup of the latest climate and environmental stories. You can also get up to date B.C.-focussed news delivered to your inbox by 7 a.m. by subscribing to our newsletter here.
A glance at B.C.'s carbon numbers: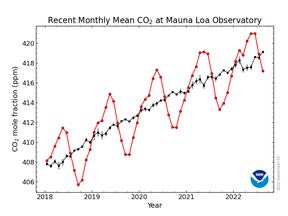 This is the Mauna Loa CO2 data for August, 2022. The red lines and symbols represent the monthly mean values, centred on the middle of each month. The black lines and symbols represent the same, after correction for the average seasonal cycle. Source: NOAA
Climate change quick facts:
The Earth is now about 1.1 C warmer than it was in the 1800s.
Globally, 2021 was the fifth warmest year on record.
Human activities have raised atmospheric concentrations of CO2 by nearly 49 per cent above pre-industrial levels starting in 1850.
The world is not on track to meet the Paris Agreement target to keep global temperature from exceeding 1.5 C above pre-industrial levels, the upper limit to avoid the worst fallout from climate change.
2015-2019 were the five warmest years on record while 2010-2019 was the warmest decade on record.
On the current path of carbon dioxide emissions, the temperature could increase by as much as 4.4 C by the end of the century.
In April, 2022 greenhouse gas concentrations reached record new highs and show no sign of slowing.
Emissions must drop 7.6 per cent per year from 2020 to 2030 to keep temperatures from exceeding 1.5 C and 2.7 per cent per year to stay below 2 C.
97% of climate scientists agree that the climate is warming and that human beings are the cause.
(Source: United Nations IPCC, World Meteorological Organization,UNEP, Nasa, climatedata.ca)
LATEST CLIMATE NEWS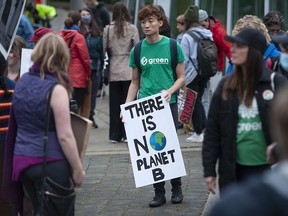 Various groups concerned with the environment gather at Coal Harbour Park in Vancouver on Friday, Sept. 23, 2022 for the Global Day of Action.

Photo by Jason Payne

/

PNG
Hundreds of people from all walks of life gathered in downtown Vancouver Friday afternoon to advocate for global action on the climate crisis.
Those gathering for a march and rally in Coal Harbour and the Vancouver Art Gallery included a youth group from Sustainabiliteens, doctors, environmental activists and others concerned about the state of the planet.
Sustainabiliteens said the youth rally that wrapped up at the art gallery was a shift to include a more diverse group in fighting for climate justice.
"We need to centre community, hope and joy in the climate movement, because the second we believe nothing can be solved, we lose our fighting chance," said organizer Amber Leung in a statement. "With a strong community, we can advocate for change long-term, instead of experiencing climate anxiety and burnout, which are far too common among activists."
Read the full story here.
—Joseph Ruttle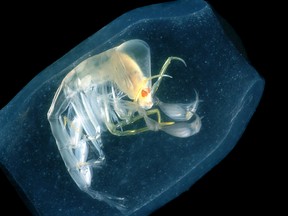 File photo of a salp. (H. Bahena/Vancouver Sun)

Photo by Handout

/

Vancouver Sun
A team of UBC researchers is about to embark on an adventure to the Southern Ocean to find out how much carbon a tiny ocean creature called a salp sequesters from the atmosphere.
Because of climate change and the warming ocean, salps — gelatinous barrel-shaped organisms — are multiplying, which could mean they're removing more carbon from the atmosphere. But how much carbon they can capture is what scientists want to find out.
Thanks to a National Geographic Society grant, University of B.C. doctoral student Alexis Bahl and three other UBC researchers will board the Alfred Wegener Institute's icebreaker on Oct. 1. They will be joining between 40 and 50 other international scientists on the ship. Only the UBC team will be studying salp migration and the other scientists will be working on different focus areas.
Salps move from the ocean depths to the surface every day at sunset to feed, the largest migration in the world by number of creatures per volume, said Bahl, who is a PhD candidate in oceanography at UBC's Department of Earth, Ocean and Atmospheric Sciences, and the Institute of Oceans and Fisheries.
Read the full story here.
—Tiffany Crawford
Angali Appadurai wants the B.C. NDP to lead the pack when it comes to battling climate change.
"I'm going to fight to bring in the new energy and the leadership that we need to to become leaders on the climate file," Appadurai told several dozen people in attendance.
"Our priorities need to be upon a different set of relations between our economy, our society and the land that we live on."
Appadurai, 32, launched her NDP leadership campaign with promises to scrap Site C and the Trans Mountain pipeline and eliminate government subsidies from fossil fuel companies. She would reinvest money earmarked for those projects into a jobs transition strategy to move workers from the fossil fuel industry into the green economy.
"We have to understand our economy as inseparable from the climate and the health of the planet," she said.
Read the full story here.
—Nathan Griffiths
Youth activists staged a coordinated "global climate strike" Friday to highlight their fears about the effects of global warming and demand more aid for poor countries hit by wild weather.
Protesters took to the streets in Jakarta, Tokyo, Rome and Berlin carrying banners and posters with slogans such as "We are worried about the climate crisis" and "It's not too late."
The demonstrations were organized by the Fridays for Future youth movement that took its cue from activist Greta Thunberg, who began protesting alone outside the Swedish parliament in 2018.
"We're striking all over the world because the governments in charge are still doing too little for climate justice," said Darya Sotoodeh, a spokesperson for the group's chapter in Germany.
Read the full story here.
—The Associated Press
The effects of climate change are projected to cost Ontario an extra $1.5 billion annually on average in the next few years just to maintain public transportation infrastructure, the province's financial watchdog said in a report Thursday.
By 2030, changes in extreme weather mean climate-related costs will accumulate to a total of $13 billion, the Financial Accountability Office said.
Over the long term, if global emissions peak by mid-century, climate hazards will increase infrastructure costs by $2.2 billion a year on average, without any climate adaptation, and if emissions instead continue rising beyond 2050, those costs will increase by $4.1 billion a year on average, the report said.
Adaptation would add between $1.4 billion and $2.9 billion a year between now and the year 2100.
Read the full story here.
—The Canadian Press
Countries on the front lines of the climate crisis are fed up.
During the annual gathering of world leaders at the United Nations this week, low-lying island nation Vanuatu stepped up a fight to get the world to focus on combating global warming by calling for a fossil fuel nonproliferation treaty.
"The time is up – action is required now," Vanuatu's President Nikenike Vurobaravu told the U.N. General Assembly on Friday.
The treaty would aim to scale down coal, oil and gas production to limit the rise in temperatures to the globally agreed 1.5 degrees Celsius (2.7 degrees Fahrenheit).
It would also "enable a global just transition for every worker, community and nation with fossil fuel dependence," said the leader of the carbon-negative country.
A UN climate science panel – the Intergovernmental Panel on Climate Change (IPCC) – has warned that global emissions are on track to blow past the 1.5 degrees C warming limit and reach some 3.2 degrees C by the end of century.
Read the full story here.
—Reuters
Frustrated, anxious but also a tad hopeful, young activists staged a coordinated "global climate strike" Friday to highlight the effects of global warming and demand more aid for poor countries hit by wild weather.
In New York, as leaders of developing disaster-struck nations pleaded their cases at the United Nations, more than a thousand protesters, many of them skipping school, marched through the streets to tell their leaders they were sick of inaction on climate.
"The oceans are rising and so are we," they chanted. Protesters also took to the streets in Jakarta, Tokyo, Rome, Berlin and Montreal carrying banners and posters with slogans such as, "It's not too late."
"It's one thing to worry about the future, and it's another to get out there and do something about it," said 16-year-old Lucia Dec-Prat at the protest in New York. "I honestly feel that the adults aren't listening."
Dinah Landsman, 17, said every day she asks herself about what kind of future she'll have as she grows up because of climate change. Her generation has to act, she said.
Read the full story here.
—The Associated Press
World Bank head says he's not a climate denier, won't quit
World Bank President David Malpass said Friday he won't resign after coming under criticism for his remarks earlier this week regarding climate change.
At an event sponsored by The New York Times on Tuesday, Malpass wouldn't answer directly when asked whether the burning of fossil fuels has contributed to global warming. Instead, he said, "I am not a scientist."
In an interview with Politico Friday, Malpass said he wouldn't resign, and that he hasn't been asked to do so by any of the bank's member governments. He acknowledged he should have done a better job responding to questions on Tuesday, including from former Vice President Al Gore, who asked if he was a "climate denier."
"When asked, 'Are you a climate denier?' I should have said no," he said.
Malpass also said the World Bank is taking a "forceful leadership" position on climate issues.
Read the full story here.
—The Associated Press
It was 31 years ago when the Marshall Islands' first president, Amata Kabua, appeared before the U.N. General Assembly to sound the alarm over global warming. Today, his son — current president David Kabua — is still sounding the alarm, which has only gotten more dire.
Speaking to world leaders gathered at the high-level leaders' meeting Tuesday, the younger Kabua described the longstanding fight to keep his low-lying island nation above water.
"Today, we renew our call to the world to declare total war on this century's greatest challenge — the climate change monster," he said.
Kabua bemoaned the fact that after so many years, "the world has failed to break our addiction to fossil fuels."
"We are not investing enough in life-saving adaptation, particularly for small island states," he said.
Read the full story here.
—The Associated Press
After a quiet start to the season, Hurricane Fiona slammed into Puerto Rico and then battered the Dominican Republic, leaving more than 1 million people without running water or power.
By Saturday the storm had hit Canada's east coast, knocking out power to hundreds of thousands of homes and businesses.
While scientists haven't yet determined whether climate change influenced Fiona's strength or behaviour, there's strong evidence that these devastating storms are getting worse.
IS CLIMATE CHANGE AFFECTING HURRICANES?
Yes, climate change is making hurricanes wetter, windier and altogether more intense. There is also evidence that it is causing storms to travel more slowly, meaning they can dump more water in one place.
If it weren't for the oceans, the planet would be much hotter due to climate change. But in the last 40 years, the ocean has absorbed about 90% of the warming caused by heat-trapping greenhouse gas emissions. Much of this ocean heat is contained near the water's surface. This additional heat can fuel a storm's intensity and power stronger winds.
Climate change can also boost the amount of rainfall delivered by a storm. Because a warmer atmosphere can also hold more moisture, water vapour builds up until clouds break, sending down heavy rain.
—Reuters
RELATED SOCIAL MEDIA
Imagine you knew your industry was the major contributor to climate change. Imagine you had gobs of money to diversify & transform your industry, providing clean solutions at scale, while still making money. And imagine you didn't.

Risk/reward never clearer. World is watching.

— Catherine McKenna (@cathmckenna)

September 24, 2022
GUIDES AND LINKS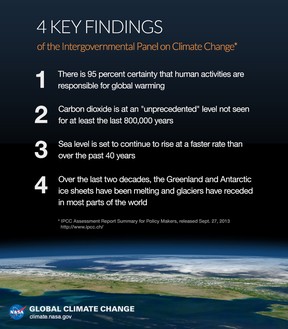 Source: NASA
B.C. Flood: Read all our coverage on the Fraser Valley and beyond
Frequently asked questions about climate change: NASA
Climate change made B.C. heat wave 150 times more likely, study concludes
B.C.'s heat wave: Intense weather event is linked to climate crisis, say scientists
Expert: climate change expected to bring longer wildfire seasons and more area burned
Vancouver outlines its Climate Emergency Action Plan
COVID-19 may have halted massive protests, but youth are taking their fight for the future to the courts
Climate displacement a growing concern in B.C. as extreme weather forces residents out of their homes
Do you have a story idea about local efforts being made to address the climate and ecological emergencies? Please email tips to ticrawford@postmedia.com
More news, fewer ads: Our in-depth journalism is possible thanks to the support of our subscribers. For just $3.50 per week, you can get unlimited, ad-lite access to The Vancouver Sun, The Province, National Post and 13 other Canadian news sites. Support us by subscribing today: The Vancouver Sun | The Province.